Sun., Aug. 18, 2013
Joey Logano wins Cup race at Michigan from the pole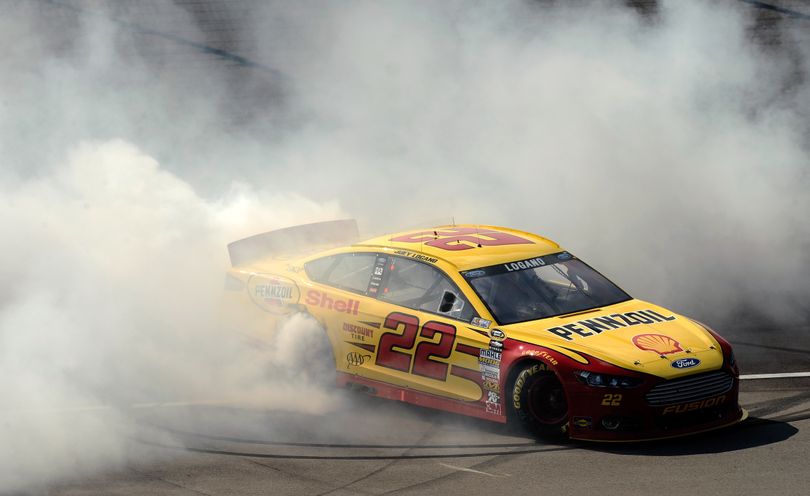 Logano scores third career victory on the NASCAR Sprint Cup Series and his first at Michigan International Speedway.
By Reid Spencer
NASCAR Wire Service
BROOKLYN, Mich. -- Add another name to the Chase conversation.
Joey Logano started Sunday's Pure Michigan 400 NASCAR Sprint Cup Series race from the pole, and after a convoluted mix of strategy and racing incidents, it was Logano who claimed the victory and established himself as a contender for a berth in the Chase for the NASCAR Sprint Cup.
The victory was Logano's first of the season, his first at Michigan, his first for Penske Racing and the third of his career. Kevin Harvick ran second, followed by Kurt Busch, Paul Menard and Clint Bowyer.
The victory moved Logano from 16th to 13th in the NASCAR Sprint Cup standings, 17 points out of 10 place. The youngest winner in MIS history also is in play for a Wild Card, with two spots available to the drivers in positions 11-20 in the standings with the most victories.
"This is huge for our Chase hopes," Logano said. "We needed this to have a shot at getting in the Chase. We're close now, but we can't make any mistakes. This sure does help a lot."
Mark Martin took off after a restart on Lap 178, as Kurt Busch, Logano and Harvick battled for the second spot behind him. But Martin was short on field, and after the running order shuffled out with Logano in second and Harvick in third, the pursuers began to close in on the leader.
But Logano, 23, who came to the public eye as a 14-year-old with praise from the 54-year-old Martin, couldn't make the pass for the lead, even though Martin was trying mightily to save fuel.
"I noticed he was lifting early, because I was catching him on entry (into the corners)," Logano said. "He was able to pull me on exit. I wanted to get by him, because I knew the 29 (Harvick) was fast, too…
"It is so cool to be here in Victory Lane. It's crazy racing Mark Martin, my childhood hero. I was able to race against him in Pocono last year for the win. It is so cool racing against a guy like that
But when Martin slowed in Turn 3 on Lap 197 and brought his car to pit road for fuel, Logano shot past him into the lead with Harvick in hot pursuit. Logano held the top spot for the final four laps and took the checkered flag by 1.018 seconds over the No. 29 Chevrolet.
To Harvick, the race was decided on the final restart. Harvick lined up inside Martin with Logano's No. 22 Ford behind the No. 29 Chevy.
"Just mistimed that last restart there," Harvick said. "I had a great run on the 55 (Martin). Was going to beat him to the line by too much. Wound up having to drag the brakes. From there, it was going to be sketchy if we were going to keep the 22 back there.
"Went for it, backfired a little bit there as we got three-wide and lost some track position. I didn't think we were going to be racing the 55 there for the win (because Martin was short on fuel). I thought if we could just get out of Turn 2 in second we'd be in good shape. Got a little bit greedy and lost a couple spots there. That's what ultimately cost us the win."
Series leader Jimmie Johnson couldn't exorcise his Michigan jinx. After wrecking his primary car in Saturday's practice, Johnson started Sunday's race from the rear of the field in a backup car. He took the lead on Lap 43 during a cycle of green-flag pit stops, but shortly thereafter Johnson exited the race because of an engine failure.
"The engine broke there," Johnson said after bringing the car to the garage. "I guess when we came in for a green flag pit stop, something started then and made it a few more laps and didn't really notice anything off.
"Then it finally dropped a cylinder or two down the backstretch. Definitely an unfortunate thing, but we had plenty of speed in the car and I think we were going to be a factor."
Johnson could afford that sort of failure, having locked himself into the Chase last week at Watkins Glen. The same couldn't be said of Hendrick Motorsports teammate Dale Earnhardt Jr., who smacked the Turn 2 wall on Lap 135 -- after leading 20 circuits earlier in the race -- and took his crippled car to the garage for repairs.
Earnhardt finished 36th and dropped from sixth to seventh in the standings, 20 points ahead of 11th-place Kasey Kahne with three races left before the Chase field is set at Richmond.
Though he was the victim of an early spin in Turn 4, Austin Dillon rallied from a lap down to finish 14th in his substitute role for injured Tony Stewart, the No. 14 Stewart-Haas Racing Chevrolet is in a tight battle with the No. 56 of Michael Waltrip Racing for a spot in the owners' Chase.
After Sunday's race, the two cars are tied for the final Wild Card spot, with the No. 56, driven by Martin Truex Jr. holding the tiebreaker based on quality of finishes.
NASCAR Sprint Cup Series Race - Pure Michigan 400
Michigan International Speedway
Brooklyn, Michigan
Sunday, August 18, 2013
1. (1) Joey Logano, Ford, 200, $252393.
2. (15) Kevin Harvick, Chevrolet, 200, $180731.
3. (2) Kurt Busch, Chevrolet, 200, $136315.
4. (20) Paul Menard, Chevrolet, 200, $143486.
5. (11) Clint Bowyer, Toyota, 200, $140293.
6. (26) Marcos Ambrose, Ford, 200, $123399.
7. (31) Kasey Kahne, Chevrolet, 200, $108135.
8. (5) Jeff Burton, Chevrolet, 200, $106135.
9. (16) Greg Biffle, Ford, 200, $105435.
10. (19) Carl Edwards, Ford, 200, $127110.
11. (6) Juan Pablo Montoya, Chevrolet, 200, $119549.
12. (9) Brad Keselowski, Ford, 200, $139151.
13. (21) Ryan Newman, Chevrolet, 200, $123568.
14. (27) Austin Dillon(i), Chevrolet, 200, $131510.
15. (12) Matt Kenseth, Toyota, 200, $124676.
16. (17) Martin Truex Jr., Toyota, 200, $119535.
17. (13) Jeff Gordon, Chevrolet, 200, $130346.
18. (14) Aric Almirola, Ford, 200, $123621.
19. (22) Ricky Stenhouse Jr. #, Ford, 200, $132621.
20. (8) Denny Hamlin, Toyota, 200, $103460.
21. (18) Trevor Bayne(i), Ford, 200, $85660.
22. (29) Jamie McMurray, Chevrolet, 200, $111680.
23. (28) Danica Patrick #, Chevrolet, 200, $85010.
24. (24) David Ragan, Ford, 200, $110868.
25. (33) Casey Mears, Ford, 200, $109043.
26. (36) David Stremme, Toyota, 200, $98093.
27. (4) Mark Martin, Toyota, 199, $96835.
28. (38) Travis Kvapil, Toyota, 198, $102718.
29. (34) Timmy Hill #, Ford, 198, $89932.
30. (42) Dave Blaney, Chevrolet, 197, $81785.
31. (10) Kyle Busch, Toyota, 197, $125568.
32. (43) Landon Cassill(i), Chevrolet, 197, $80060.
33. (39) Brendan Gaughan(i), Chevrolet, 196, $87985.
34. (37) Joe Nemechek(i), Toyota, 192, $79885.
35. (30) Bobby Labonte, Toyota, 186, $87735.
36. (7) Dale Earnhardt Jr., Chevrolet, 171, $97685.
37. (23) David Gilliland, Ford, Engine, 165, $79616.
38. (25) David Reutimann, Toyota, 153, $74825.
39. (40) Josh Wise(i), Ford, Vibration, 56, $70825.
40. (3) Jimmie Johnson, Chevrolet, Engine, 54, $115936.
41. (32) Scott Speed, Ford, Vibration, 35, $62825.
42. (41) Johnny Sauter(i), Ford, Vibration, 34, $58825.
43. (35) JJ Yeley, Chevrolet, Accident, 12, $55325.
Average Speed of Race Winner: 144.593 mph.
Time of Race: 2 Hrs, 45 Mins, 59 Secs. Margin of Victory: 1.018 Seconds.
Caution Flags: 9 for 34 laps.
Lead Changes: 20 among 13 drivers.
Lap Leaders: J. Logano 0; Kurt Busch 1-5; J. Logano 6-32; Kurt Busch 33-41; D. Earnhardt Jr. 42; J. Johnson 43-45; M. Ambrose 46; T. Bayne(i) 47; D. Hamlin 48-51; C. Mears 52-53; D. Earnhardt Jr. 54-72; D. Hamlin 73-77; Kurt Busch 78-106; B. Keselowski 107; D. Ragan 108; G. Biffle 109-136; D. Gilliland 137; J. Logano 138-157; B. Keselowski 158-173; M. Martin 174-196; J. Logano 197-200.
Leaders Summary (Driver, Times Lead, Laps Led): J. Logano 3 times for 51 laps; Kurt Busch 3 times for 43 laps; G. Biffle 1 time for 28 laps; M. Martin 1 time for 23 laps; D. Earnhardt Jr. 2 times for 20 laps; B. Keselowski 2 times for 17 laps; D. Hamlin 2 times for 9 laps; J. Johnson 1 time for 3 laps; C. Mears 1 time for 2 laps; T. Bayne(i) 1 time for 1 lap; D. Ragan 1 time for 1 lap; D. Gilliland 1 time for 1 lap; M. Ambrose 1 time for 1 lap.
Top 12 in Points: J. Johnson - 813; C. Bowyer - 772; C. Edwards - 762; K. Harvick - 749; Kyle Busch - 706; M. Kenseth - 688; D. Earnhardt Jr. - 679; Brad Keselowski - 667; Kurt Busch - 665; G. Biffle - 663; K. Kahne - 659; M. Truex Jr. - 653.
---
---