Mon., July 15, 2013
Brian Vickers pulls off surprise victory in Cup race at Loudon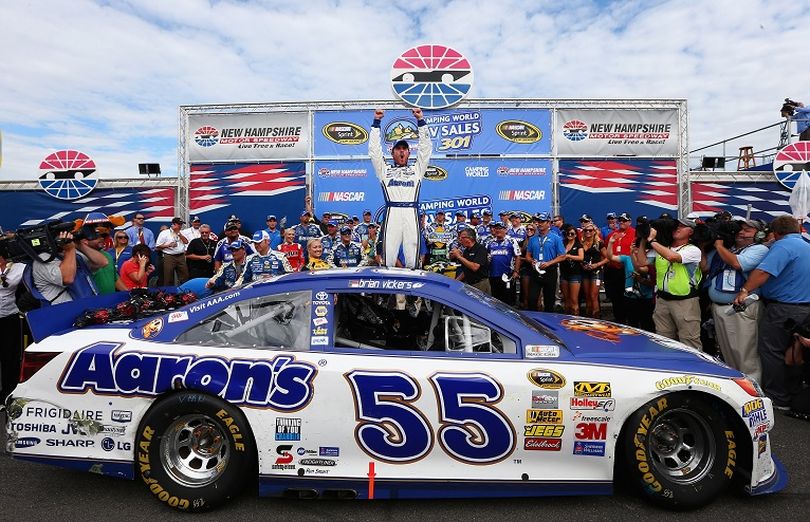 In a green-white-checkered-flag finish, Brian Vickers sped away from Kyle Busch in overtime and took the checkered flag .582 seconds ahead of Busch to win Sunday's Camping World RV Sales 301 at New Hampshire Motor Speedway.
By Reid Spencer
NASCAR Wire Service

LOUDON, N.H.--Surprise! The Michael Waltrip Racing driver almost everyone expected to win at New Hampshire Motor Speedway wasn't in Victory Lane.

But his part-time teammate was. Making the most of his limited stint in MWR's No. 55 Toyota, Brian Vickers solidified his claim to a permanent seat in the car with a stunning victory at the Magic Mile.

In a green-white-checkered-flag finish, Vickers sped away from Kyle Busch in overtime and took the checkered flag .582 seconds ahead of Busch to win Sunday's Camping World RV Sales 301 at New Hampshire Motor Speedway.

And he did so despite losing a lap because of a pit road penalty incurred when he drove away from his pit stall with a wrench on the deck lid of the 55 Camry--a lap he later regained with a wave-around just past the midpoint of the race.

The victory was a strong signal that Vickers has come all the way back from blood clots in his legs and lungs that threatened his life and sidelined him for the second half of the 2010 season. After recuperating, Vickers ran a full Cup season for Red Bull Racing in 2011 but lost his ride when Red Bull left the sport.

The third victory of Vickers' career was his first since August 2009 at Michigan. Jeff Burton ran third--his first podium finish since July 2012 at Daytona--followed by pole sitter Brad Keselowski and Aric Almirola. Series leader Jimmie Johnson, whose qualifying time was disallowed because of a ride-height violation on Friday, rallied to finish sixth.

In the closing laps, Vickers tried to avoid thoughts of what a win would mean for his career, but as he walked to Victory Lane, the import of his accomplishment began to register.

"It was difficult not to think about that those last 50 laps or 30 laps or whatever it was," Vickers said. "I just tried to live in the moment as much as possible, turn by turn and not think about the past or the future or what could or couldn't happen.

"But once it was over, it was… I think it was a sigh of relief with everything that had happened, to finally, clinch another victory after so long and after so much, and it was a lot of thankfulness. I don't know if that's the best… that's definitely the feeling I have. I just don't know if that's the right word to articulate it.

"Just thankful for everything that had happened and everything that didn't happen; that I was able to get back into a race car, and that I had the support of family and friends to get through everything and to get back in the car."

Kevin Harvick, Carl Edwards, Matt Kenseth and Jeff Gordon completed the top 10. Tony Stewart led 84 laps but ran out of fuel on the next-to-last circuit and finished 26th. Pre-race favorite Clint Bowyer, a two-time New Hampshire winner and the MWR driver expected to be first to the checkered flag, wound up 13th but held second place in the series standings, 56 points behind Johnson.

Though Busch had one of the strongest cars in the field, he wasn't brimming with confidence when he lined up in third in the inside lane for the final restart on Lap 301.

"We didn't have a chance," Busch said. "Vickers taking the outside (lane for the restart) was going to be the car to beat, and Tony obviously running out of gas there--almost wrecked with him. Just wish the race was two laps longer maybe and Vickers would have run out and maybe we would have been able to win the thing. "

Stewart was leading and in full fuel-conservation mode when contact between the Chevys of Paul Menard and Jeff Gordon sent Gordon spinning in Turn 2 on Lap 258. NASCAR called the 11th caution of the race because of the accident, leaving Stewart and Busch to restart side-by-side on Lap 263.

Stewart held the top spot for 24 laps, but Vickers showed his muscle late in the race, passed Kyle Busch for second on Lap 283 and powered past Stewart on the frontstretch four laps later. Vickers was cruising toward his first victory in four years, when NASCAR called a caution on Lap 297 of 301 and sent the race to overtime.

But the caution only forestalled Vickers' triumph for one extra lap, as he beat Busch to the finish in the two-lap Sprint.

Notes: With his fourth-place finish, Keselowski gained four spots to ninth in the Cup standings… The No. 55 MWR Toyota, which has been driven by Mark Martin, team owner Michael Waltrip and Vickers this year, moved into a wild-card position for the owners' Chase… Running out of fuel cost Stewart three positions in the standings. He's now 13th but holds the second provisional wild card spot… Vickers is the 11th different winner in the last 11 Cup races at New Hampshire.

---
---