Sat., June 8, 2013
Jeb Burton Scores First NASCAR Camping World Truck Win In Texas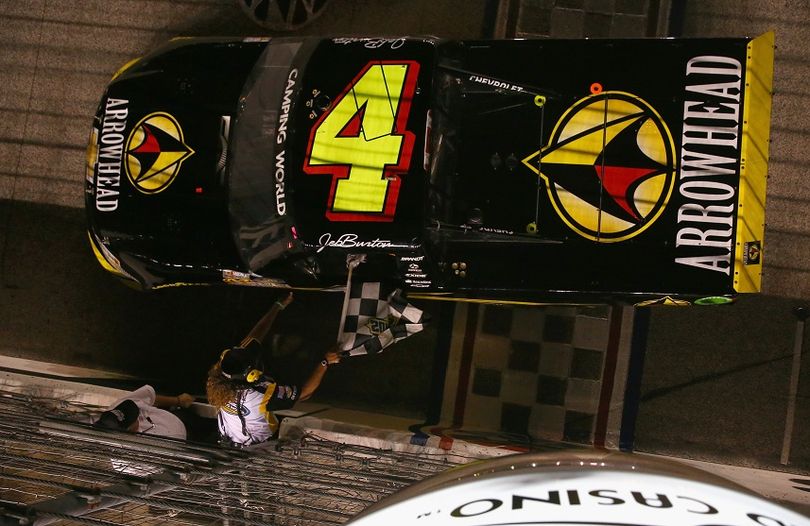 How does one cap being named to the NASCAR Next 9 promotional program? If you're Jeb Burton you go out and win the Camping World Truck Series stop at Texas Motor Speedway!!!
By John Sturbin
Special to NASCAR Wire Service

FORT WORTH, Texas -- Rookie Jeb Burton added another chapter to his family's racing history Friday night when he won the 17th annual WinStar World Casino 400 at Texas Motor Speedway.

Burton, the 20-year-old son of 2002 Daytona 500 champion Ward Burton, posted his first NASCAR Camping World Truck Series victory at the expense of Ty Dillon, grandson of NASCAR championship team-owner Richard Childress. Burton is the first winner among the 13 drivers comprising NASCAR Next, an initiative to spotlight the sanctioning body's rising stars.

"It was really fun," said Burton, driver of the No. 4 Chevrolet Silverado fielded by Turner Scott Motorsports. "I'm just living the dream. I've got a great team here. I want to thank Arrowhead and everyone in South Boston (his hometown in Virginia). It's huge. I've been telling everybody once we get one (win) they're going to start stacking-up. We've got the momentum going into Kentucky. Every week it's fun to go to the racetrack. I'm just so pumped-up."

Jeff Burton, Jeb's uncle and a NASCAR Sprint Cup Series regular for team-owner Childress, won the first Cup race on TMS' high-banked, 1.5-mile quadoval in April 1997.On Friday, Jeb took the lead from Dillon on a restart on Lap 144 of the scheduled 167 and motored to victory by 0.139-seconds.

German Quiroga finished third in his No. 77 Toyota Tundra, while series point-leader Matt Crafton finished fourth in the No. 88 Toyota. Crafton, who began the race with a 30-point lead over Burton, exited Texas with a 23-point advantage.

Burton, who started third, recorded his fifth top-10 finish of the season one year after watching this race on television because of a lack of sponsorship. "We worked very hard to get here," said the winner, who led twice for 25 laps, including the final 24. "The sponsorship is out of my hometown. They're family to us and I'm glad to get a win for them."

Ward Burton celebrated with his son post-race at the track where he made nine career Cup starts between 1997 and 2006 with a best finish of seventh in 1997.

"Shoot man, this is the most special moment in motorsports I've ever experienced," said Ward Burton, who won five Cup races with Bill Davis Racing during a 17-year career. "The biggest two races I won were the 500s at Darlington and Daytona. But anybody's that's got children, the experience of them and all the sacrifices you make for them to be successful, it's such a different emotional experience. It's hard to say it's better (than winning himself) but it's ... at the top."

Burton's team is led by crew chief Mike Hillman Jr., who said he spent the last few laps trying to calm the rookie down. "What Jeb lacks in experience he makes up in talent," said Hillman, who won six races at Texas Motor Speedway with two-time NASCAR Camping World Truck champion Todd Bodine. "I treat him like a little brother--pat him on the back when he needs it but also punch him on the arm. I'm really proud of Jeb."

Team-owner and native Texan Steve Turner--father-in-law of reigning Camping World Truck Series champion James Buescher--also celebrated his first home state win. "I've watched Jeb all year long staying in single-digits (in race results)," Turner said. "He's big-picture racing."

A rejuvenated Brendan Gaughan finished fifth in his No. 62 Chevrolet after making a strong bid for what would have been his fifth career victory at TMS. Gaughan, who is Dillon's Richard Childress Racing teammate, was looking to add to his personal history in Cowtown, where he scored that first win 11 years ago to the day--June 7, 2002. Gaughan is third in the point race, 35 behind Crafton and 12 behind Burton.

Dillon, meanwhile, closed with a rush over the final two laps. "It's a heartbreaker," said Dillon, driver of the No. 3 Chevrolet. "Our truck was the dominant truck all night. That last restart, it seemed like the No. 88 (of Crafton) gave the No. 4 (of Burton) a good push down the backstretch. I can't blame it on anybody. You get a draft, that's five extra horsepower. If I could do it again tomorrow, I'd do it again, take the top."

Dillon led three times for a race-high 76 laps, with Gaughan leading twice for 44 laps. There were 12 lead changes among eight drivers.

"If we had one more corner…I'd like to make a request to move the straightaway here like Talladega right now," Dillon joked. "But that's cool for Jeb. Experience is a key in this series so all us rookies can do is drive our hearts out."

Burton's winning average speed was 142.984 mph. There were only three cautions for 16 laps.

Pole-sitter Johnny Sauter, who swept both Truck Series events here last year, finished seventh in the No. 98 Toyota.

---
---