Sun., March 24, 2013
Kyle Busch wins dramatic Auto Club 400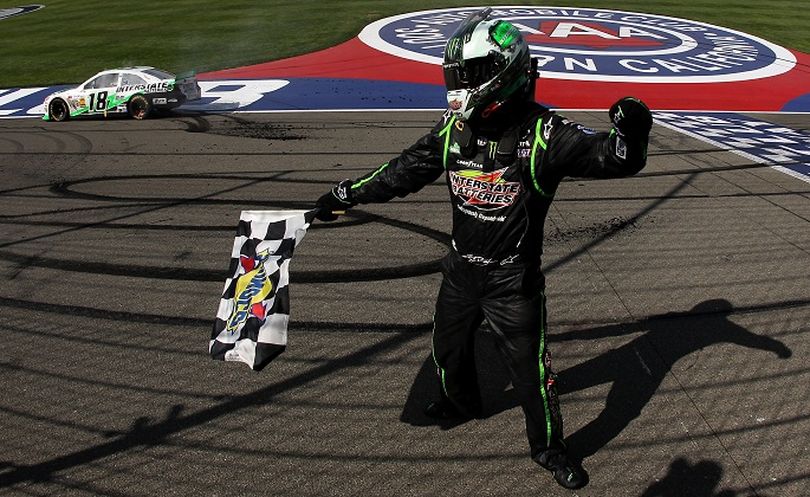 Kyle Busch made it a sweep of NASCAR's races this weekend at Auto Club Speedway while Joey Lagano and Denny Hamlin's continued fued was the talk of the post-race festivities while quietly Dale Earnhardt Jr. took over the NASCAR Sprint Cup Series points lead- it was some kind of weekend in Southern California!
Reid Spencer, NASCAR Wire Service, NASCAR.com

FONTANA, Calif. -- Denny Hamlin and Joey Logano knocked each other off the race track on the final lap of Sunday's Auto Club 400 -- allowing Kyle Busch to steal the win -- but it was Tony Stewart who left Auto Club Speedway fighting mad.

Yes, it was Busch's 25th victory in the NASCAR Sprint Cup Series. Yes, Busch broke a 31-race drought. Yes, Busch gave Joe Gibbs Racing and Toyota their first victory at Auto Club Speedway.

Yes, race runner-up Dale Earnhardt Jr. leaves California with the Cup series lead, 12 points ahead of 23rd-place finisher Brad Keselowski.

But it was the banging between pole-sitter Hamlin and Logano -- the renewal of a feud that sparked last Sunday in Bristol -- as well as an angry confrontation between Stewart and Logano on pit road that stole attention from Busch's milestone win. Stewart took umbrage at a block by Logano on the final restart with 11 laps left in the 200-lap event.

"I did win the race today," Busch quipped. "That might be a story … They (Hamlin and Logano) were so focused on each other that they left the door open."

His momentum broken by the block, Stewart fell through the field and finished 22nd. Earnhardt was second when caution froze the field on the final lap. Logano was credited with third, followed by Carl Edwards and Kurt Busch, who overcame a brush with the wall and a pit-road penalty to post his second straight top five.

Hamlin nosed hard into the inside wall and was credited with a 25th-place finish. The driver of the No. 11 Joe Gibbs Racing Toyota was airlifted to a local hospital and kept overnight as a precautionary measure. A helicopter was used because of heavy post-race traffic outside the speedway.

As Logano put it later, the driver of the No. 22 Penske Racing Ford was simply trying to do whatever was necessary to win the race. That applied both to the block of Stewart and the battle with Hamlin.

"Racing for the lead -- going for the win," Logano said. "That's what you've got to do … Tony was just upset about a restart, that I was racing him really hard on the bottom trying to make sure I protected my spot. What I was doing actually was I was racing the 18 (Kyle Busch) on the restart and he was spinning his tires.

"The rule is you can't beat him to the start-finish line, so I am pedaling it, which gave Tony the run to go underneath me. I wanted to block that because I knew, if he put me three-wide, that would be the end of my race and I wouldn't win. I was smart enough to realize that. Then I had to just do what I had to do to get to the front and try to win the race."

Stewart had a substantially different view of the incident.

"For a guy that's been complaining about how everyone else is driving here, and him to do that, it's a double standard," Stewart said. "He makes the choice. He makes the decision to run us down there (to the apron), and when you run a driver down there, you take responsibility for what happens after that.

"He's a tough guy on pit road, as soon as one of his crew guys gets in the middle of it. Until then, he's a scared little kid."

A caution on Lap 170 for Marcos Ambrose's blown left-rear tire followed almost immediately a round of green-flag pit stops and wiped out Busch's five-second lead over Harvick. That set up a restart on Lap 175 with Busch on the outside and Harvick beside him in the inside lane.

Harvick, however, failed to launch on the restart, allowing Kahne to move into second with Stewart behind him. One lap later, Mark Martin's spin off Turn 2 brought out the seventh caution and bunched the field for a restart on Lap 181.

Kyle Busch pulled away once again, but the engine in Clint Bowyer's Toyota exploded on Lap 185, giving cars running ninth on back a chance to pit for fresh tires in hopes of gaining ground on a final charge to the finish.

Kyle Busch paced the field to a restart on Lap 190 with Logano beside him, despite overheating issues that threatened his chances for a strong finish. Stewart was third and Kurt Busch fourth when the field took the green.

Stewart was the biggest loser on the restart, thanks to the block Logano threw on the No. 14 car as the field stormed through Turn 1. Logano got the better of Kyle Busch on lap 194, as Hamlin streaked through the field on fresh tires to move into second.

Just past the finish line on Lap 199, Hamlin moved to the outside of Logano, and the drivers banged doors repeatedly until the contact sent Hamlin spinning and Logano into the outside wall, allowing Kyle Busch to steal the win.
---
---