Sun., May 5, 2013
David Ragan beats Goliaths in astonishing Cup race at Talladega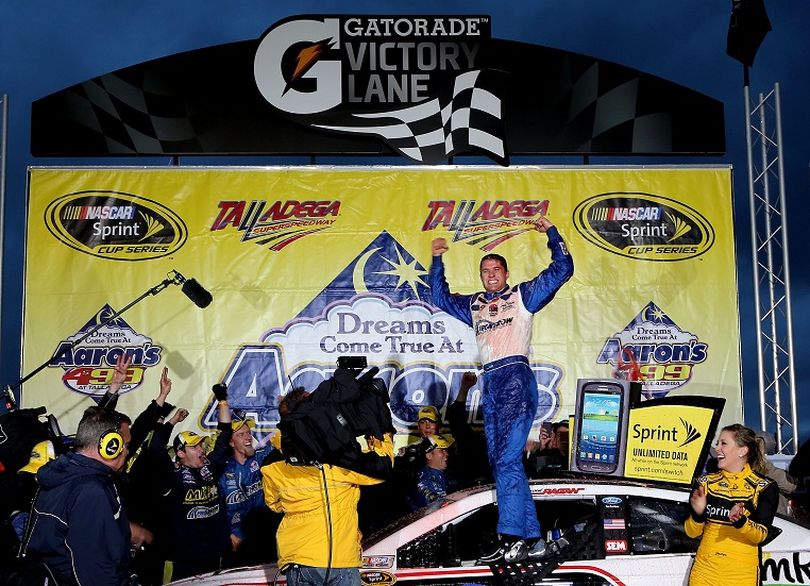 David Gilliland pushed David Ragan, his teammate, to the lead on the final circuit in a green-white checkered-flag finish that took Sunday's Aaron's 499 four laps past its scheduled distance of 188 laps. Gilliland came home second, followed by pole sitter Carl Edwards, Michael Waltrip and series leader Jimmie Johnson.
By Reid Spencer
NASCAR Wire Service

TALLADEGA, Ala.--In the type of stunning victory that has typified racing at Talladega Superspeedway since its inception, David Ragan led an extraordinary 1-2 finish for Front Row Motorsports, which had never won a NASCAR Sprint Cup Series race before Sunday.

David Gilliland pushed Ragan, his teammate, to the lead on the final circuit in a green-white checkered-flag finish that took Sunday's Aaron's 499 four laps past its scheduled distance of 188 laps. Gilliland came home second, followed by pole sitter Carl Edwards, Michael Waltrip and series leader Jimmie Johnson.

As Ragan put it, two Davids beat the Goliaths of NASCAR racing in one of the sport's most unlikely finishes ever.

Ragan's victory followed a massive wreck that took the race to overtime--and to near-darkness, in what truly was truly was a Talladega night. In fact, NASCAR gave the drivers a chance to change their tinted visors for clear ones during the final caution.

Afterwards, Ragan tried to put the win in perspective.

"I can only imagine what it felt like back in 1988 when Mark Martin got that first win for Jack Roush or when Geoff Bodine won that first race for Hendrick Motorsports," said Ragan, who scored his only Sprint Cup win at Daytona in July 2011, his last season with Jack Roush. "I'm sure it was just as special.

"A lot of these guys have been to Victory Lane in the Sprint Cup Series and late model racing, short tracks, ARCA – all kinds of series – but to do it here at Talladega in 2013, like I said, it's a true David vs. Goliath story. I couldn't be more proud to play my own role."

Ragan restarted 10th and Gilliland 11th for the final two-lap sprint. As the cars raced into Turn 1, they were barely visible from the frontstretch grandstand, but the teammates managed to find each other on the track. For the first time in NASCAR's new Gen-6 car, Gilliland pushed another car through the corners--to the amazement of Edwards, whose jaw dropped in the post-race news conference as Gilliland described the final two laps.

"We got restarted there, and it was sprinkling, and it was dark and there was (speedy-dry) on the track so it got on the windshield where it was wet but I could see, and I could see David there and he came down," Gilliland said. "Michael Waltrip was behind me, giving me a good run and just carried a lot of momentum up through there and got hooked up with David and figured he's got the best chance of anybody sticking together with him out there and just worked our way up there.

"It got real tight getting into (Turn) 3 and 4 with Carl there. I know David was sideways and out of the gas, and Carl was right up on his door, and could have gone a number of ways. But, thankfully I just stayed on his bumper. I pushed him all the way through the corners. It's the first time I've ever done that with this car, with these style of cars, because with these type of cars in practice I've pushed people down the back straight and it actually kind of gets underneath that little lip underneath the back bumper cover and I've always been kind of scared getting into the corner. As the front car compresses, the back part of the nose doesn't have anywhere to go because the splitter is already on the racetrack.

"But I just pushed him all the way around there and Carl about stalled out a little bit, and we were just able to carry some good momentum and come home one-two."

On Lap 183, Ricky Stenhouse Jr. tried a four-wide move to the outside, but contact with J.J. Yeley's car triggered a multicar melee that wiped out Kurt Busch, Ryan Newman, Danica Patrick and Clint Bowyer, among others.

That set up the two-lap dash in overtime with Matt Kenseth in the lead and Edwards beside him on the front row. Kenseth, who led 142 laps dropped to eighth at the finish.

Michael McDowell blew a tire and hit the wall on Lap 174 to cause the fourth caution of the race and bunch a field that had become segmented during a series of green-flag pit stops that ended on Lap 168. When NASCAR threw the yellow, Johnson led a six-car breakaway that included Kenseth, Kurt Busch, Edwards, Bowyer and Waltrip.

The caution, however, brought 19 other lead-lap cars back into play and the massive wreck at the end of the backstretch changed the game completely.

NASCAR slowed the race on Lap 122 and stopped it after Lap 125 when showers that had been forecast for race day arrived shortly after 3 p.m. ET. Edwards had nosed ahead of Stenhouse moments earlier and was ahead at the last scoring loop the cars crossed before the yellow.

That left the Fords of Edwards, Stenhouse, Joey Logano and Brad Keselowski at the front of the field when NASCAR red-flagged the race, forcing drivers and fans to wait and see whether the event would resume.

After a stoppage of 3 hours, 36 minutes, the race restarted after pit stops, and Kenseth quickly surged to the front.

As the cars approached Turn 1 on lap 43, a tap from Kyle Busch's No. 18 Toyota turned Kasey Kahne's No. 5 Chevrolet into the outside wall and triggered a wreck that damaged 16 cars, among them the Chevys of Tony Stewart and Kevin Harvick, the Toyota of Brian Vickers (after a driver change with Denny Hamlin) and the Ford of Greg Biffle.

"I know I got in the back of the 5 (Kahne), and I guess I was trying to go to the outside of him," Busch said. 'But he just moved up in front of me, and I wasn't expecting it, and I tried to go to the outside of him, and before I could get to the outside of him I got in the back of him.

"I just hate that I caused a hell of a melee for everybody. I hate that. A lot of cars got torn up, and it's way too early in the race to be doing any of those sorts of moves, whether he made it or I made it. Just I hate it that we all got crashed in that deal."

Both Kahne and Busch visited the infield care center after the wreck, and both were released in short order.

"I just kind of got shot through the center (of the field) there, just a lot of momentum coming from behind," Kahne said of the action immediately before the crash. "Felt the No. 18 pushing me, and next thing I know, I was spinning
.
"You just can't push with these cars. We learned that at Daytona. He was pushing me and spun me in the wall, and then (it) happened again, so that is what it is."

Kahne said he and Busch didn't speak in the care center.

"No, I didn't talk to him," Kahne said. "I think we both probably understand what happened, and we'll figure it out from there."

Notes: Johnson's margin in the Cup standings over second-place Edwards shrank by two points to 41. Dale Earnhardt Jr. (17th Sunday) is third, 59 points behind his Hendrick Motorsports teammate… Paul Menard finished 26th with a sour engine but gained two spots to eighth in the standings because other drivers in Chase-eligible positions had bigger issues… Ragan and Gilliland won a combined $608,261 for their 1-2 finish, a welcome payday for a team run by owner Bob Jenkins predominantly out of his own pocket.

---
---