Mon., May 27, 2013
Kevin Harvick wins wild Coca-Cola 600 at Charlotte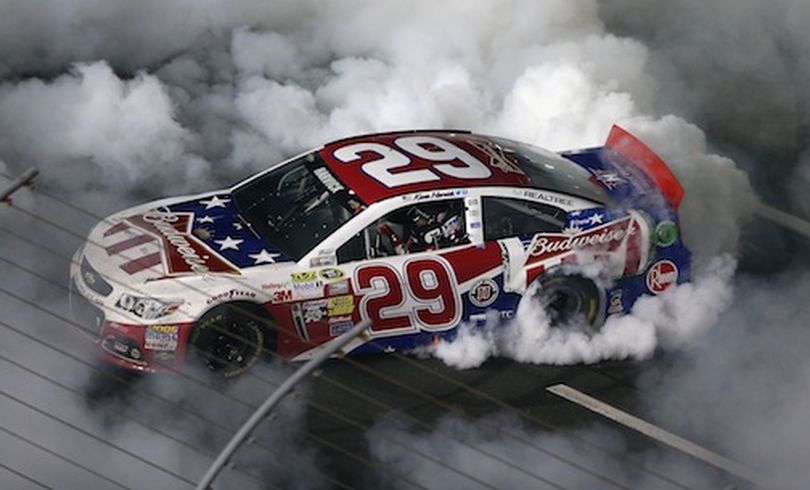 Kevin Harvick pulled away during an 11-lap green-flag run to the finish to beat Kasey Kahne to the finish line by 1.491 seconds. The victory was Harvick's second of the season, his second at Charlotte and the 21st of his career.
By Reid Spencer
NASCAR Wire Service
CONCORD, N.C.--After 389 laps in NASCAR's motorsports marathon, the 54
th
running of the Sunday night's Coca-Cola 600 Sunday at Charlotte Motor Speedway came down to an 11-lap shootout--and Kevin Harvick won it.
Harvick pulled away during an 11-lap green-flag run to the finish to beat Kasey Kahne to the finish line by 1.491 seconds. The victory was Harvick's second of the season, his second at Charlotte and the 21
st
of his career.
Kurt Busch ran third, followed by polesitter Denny Hamlin and Joey Logano. Ryan Newman, Tony Stewart, Clint Bowyer, Martin Truex Jr. and Marcos Ambrose completed the top 10.
On a night where the second half of the race produced non-stop action and plenty of contact, 10 spectators were injured when a TV camera drive line broke, three of them seriously enough to warrant transportation to a local hospital.
The speedway announced after the race that all injured treated and released.
The pivotal moment in the race was a decision by Harvick and crew chief Gil Martin to come to pit road for two new tires after NASCAR called a debris caution on Lap 384 of 400. Kahne stayed out. In fact, he was the only driver to do so, and Harvick lined up beside the driver of the No. 5 Chevrolet for a restart on Lap 390 with a distinct advantage.
"It was a good strategy call there," Harvick said. "The 5 stayed out, and we were able to have a little bit fresher tires and get in front of him on the restart… This is one of those nights where you just know going in that you've got to grind away, lap after lap to keep yourself on the lead lap and not make any mistakes…
"This is a long night. We've been here a lot of times and know that you just have to grind through mile after mile, keep your car running, don't get tore up, don't get a lap down, and you're going to be somewhere around at the end. Everybody did that on our Budweiser Chevy tonight, and there we were at the end."
For the third time this season on a 1.5-mile speedway, Kahne finished second with arguably the fastest car. Both he and crew chief Kenny Francis were surprised that Kahne was the only driver who stayed on the track during the final caution. Fresh rubber turned the tide in Harvick's favor.
"We had a great car from the drop of the green, drove to the front from sixth," said Kahne, who led a race-high 161 laps. "It was definitely our race to lose, especially those last 100 laps. We thought that some of the guys would stay out. I think there were three cars that had just pitted within the last couple laps, or five or six laps, and (we) just felt like they'd stay out, and that'd be a big enough buffer to someone who had two or four (new) tires, that we could get away.
"It didn't happen. Harvick started right beside me and had two, and he held it flat through (Turns) 1 and 2, and I had to lift a little bit. I got a little free getting in, so I had to back off the gas, and when I went back down, he was in front of me. So that was the end of our race, and I had to make sure I got second from there."
NASCAR's longest race took an extraordinary turn on Lap 122 when a guide cable to the "CamCat," the remote-control mobile camera that traverses the frontstretch, broke and fell across the track. Several cars sustained damage from running across the cable, most notably those of Ambrose and Kyle Busch, then the race leader.
A length of cable wrapped around Ambrose's rear housing and severed a brake line. Contact with the fallen cable sliced open the front right quarter panel of Busch's Toyota. NASCAR went off the pages of its own rule book under the exceptional circumstances and allowed all teams to repair their cars during a 15-minute break in the action.
The sanctioning body restored the running order before the cable broke, reinstating Ambrose, who lost four laps under repairs, to the lead lap for a restart on Lap 131. Busch's team worked feverishly to reconstruct the damaged quarter panel with black Bear Bond tape.
Two red-flag periods totaling 27 minutes--the first for the broken cable, the second for repairs--took the race from daylight to dusk. Kyle Busch held the top spot after the Lap 131 restart, with brother Kurt Busch charging from sixth to second on the first restart lap.
The Busch brothers paced the field until Kenseth grabbed the lead from his teammate during a cycle of green-flag pit stops that began on Lap 171. From that point Kenseth dominated, until simultaneous engine failures in Dale Earnhardt Jr.'s Chevrolet and Kyle Busch's Toyota slowed the field on Lap 258.
Earnhardt's calamity also was bad news for Greg Biffle, Travis Kvapil and Dave Blaney, who spun in the oil pouring from the No. 88 Chevy SS and wrecked, sidelining all three drivers.
Kenseth was the only driver who remained on the track under the ensuing yellow, and he surrendered the lead to Kahne seven laps after a restart on Lap 267. The decision to stay out cost Kenseth, who lost track position after pitting early on Lap 301, three laps before a caution for debris in Turn 1 interrupted a cycle of green-flag pit stops.
Jeff Gordon also lost a lap when the caution trapped him on pit road and was an innocent victim of three-wide racing after a spate of cautions to the race to a restart on Lap 325. Just past the star/finish line after the restart lap, contact between the cars of Mark Martin and Aric Almirola demolished those two machines as well as Gordon's.
NASCAR red-flagged the race after Lap 326, and that proved disastrous to Kurt Busch, who Chevy lost power under the stoppage. Busch, who had wrested the lead from Kahne after a restart on Lap 319, surrendered the top spot to Harvick when his car wouldn't start.
After a push from a safety truck, however, Busch's car re-fired, and his crew changed the battery on pit road without losing a lap.
The fireworks were far from over. Jimmie Johnson's spin on Lap 333 battered the No. 48 Chevy of the five-time champion, as well as the cars of Kenseth, Juan Pablo Montoya and Paul Menard.
That left Kahne and Harvick to fight for the lead, which Kahne took decisively on Lap 341, clearing Harvick to the outside through Turns 3 and 4. Kahne gave up the top with a green-flag pit stop on Lap 364, but regained it during the pit stop cycle before a debris caution on Lap 384 set up 11-lap dash to the finish.
NASCAR Sprint Cup Series Race - Coca-Cola 600
1. (15) Kevin Harvick, Chevrolet, 400, $401811.
2. (6) Kasey Kahne, Chevrolet, 400, $286615.
3. (2) Kurt Busch, Chevrolet, 400, $218560.
4. (1) Denny Hamlin, Toyota, 400, $220915.
5. (31) Joey Logano, Ford, 400, $174823.
6. (10) Ryan Newman, Chevrolet, 400, $174198.
7. (25) Tony Stewart, Chevrolet, 400, $169240.
8. (5) Clint Bowyer, Toyota, 400, $161323.
9. (17) Martin Truex Jr., Toyota, 400, $150665.
10. (19) Marcos Ambrose, Ford, 400, $144079.
11. (13) Carl Edwards, Ford, 400, $150105.
12. (27) Jeff Burton, Chevrolet, 400, $122030.
13. (22) Paul Menard, Chevrolet, 400, $142271.
14. (30) Ricky Stenhouse Jr. #, Ford, 398, $156966.
15. (3) Matt Kenseth, Toyota, 398, $154971.
16. (29) Trevor Bayne, Ford, 397, $108530.
17. (36) Regan Smith(i), Chevrolet, 397, $133463.
18. (16) Juan Pablo Montoya, Chevrolet, 397, $133319.
19. (9) Jamie McMurray, Chevrolet, 396, $131675.
20. (26) David Gilliland, Ford, 396, $121263.
21. (38) David Reutimann, Toyota, 396, $117038.
22. (12) Jimmie Johnson, Chevrolet, 395, $147791.
23. (21) Casey Mears, Ford, 394, $120788.
24. (34) Bobby Labonte, Toyota, 394, $117802.
25. (35) David Ragan, Ford, 394, $108105.
26. (43) Josh Wise(i), Ford, 393, $98355.
27. (40) Timmy Hill #, Ford, 391, $95330.
28. (23) JJ Yeley, Chevrolet, 390, $94805.
29. (24) Danica Patrick #, Chevrolet, 385, $94680.
30. (33) Dave Blaney, Chevrolet, Accident, 339, $96055.
31. (7) Greg Biffle, Ford, 335, $113005.
32. (39) David Stremme, Toyota, 326, $94280.
33. (18) Aric Almirola, Ford, Accident, 324, $131066.
34. (4) Mark Martin, Toyota, Accident, 324, $104505.
35. (14) Jeff Gordon, Chevrolet, Accident, 324, $140791.
36. (20) Brad Keselowski, Ford, Accident, 317, $149696.
37. (42) Landon Cassill(i), Chevrolet, Accident, 303, $93523.
38. (8) Kyle Busch, Toyota, Engine, 257, $133653.
39. (11) Dale Earnhardt Jr., Chevrolet, Engine, 256, $101745.
40. (28) Travis Kvapil, Toyota, Accident, 253, $87745.
41. (41) Joe Nemechek(i), Toyota, Electrical, 213, $75745.
42. (32) Michael McDowell, Ford, Brakes, 50, $71745.
43. (37) Scott Speed, Ford, Transmission, 39, $68245.
Average Speed of Race Winner: 130.521 mph.
Time of Race: 4 Hrs, 35 Mins, 49 Secs. Margin of Victory: 1.490 Seconds.
Caution Flags: 11 for 61 laps.
Lead Changes: 24 among 12 drivers.
Lap Leaders: D. Hamlin 1-6; M. Kenseth 7-23; K. Kahne 24-44; J. McMurray 45-46; B. Keselowski 47-48; K. Kahne 49-74; Kyle Busch 75-79; K. Kahne 80-115; Kyle Busch 116-175; K. Kahne 176; B. Keselowski 177; M. Kenseth 178-242; K. Kahne 243; M. Kenseth 244-273; K. Kahne 274-318; Kurt Busch 319-326; K. Harvick 327-340; K. Kahne 341-363; K. Harvick 364-366; R. Newman 367; T. Stewart 368-373; C. Edwards 374-380; P. Menard 381; K. Kahne 382-389; K. Harvick 390-400.
Leaders Summary (Driver, Times Lead, Laps Led): K. Kahne 8 times for 161 laps; M. Kenseth 3 times for 112 laps; Kyle Busch 2 times for 65 laps; K. Harvick 3 times for 28 laps; Kurt Busch 1 time for 8 laps; C. Edwards 1 time for 7 laps; D. Hamlin 1 time for 6 laps; T. Stewart 1 time for 6 laps; B. Keselowski 2 times for 3 laps; J. McMurray 1 time for 2 laps; R. Newman 1 time for 1 lap; P. Menard 1 time for 1 lap.
Top 12 in Points: J. Johnson - 445; C. Edwards - 413; M. Kenseth - 394; C. Bowyer - 385; K. Kahne - 370; D. Earnhardt Jr. - 364; K. Harvick - 362; P. Menard - 347; M. Truex Jr. - 336; Brad Keselowski - 335; Kyle Busch - 332; A. Almirola - 328.
---
---