Tue., June 2, 2015
Tri Track Super Late Model Series Takes Aim At Stateline Speedway This Weekend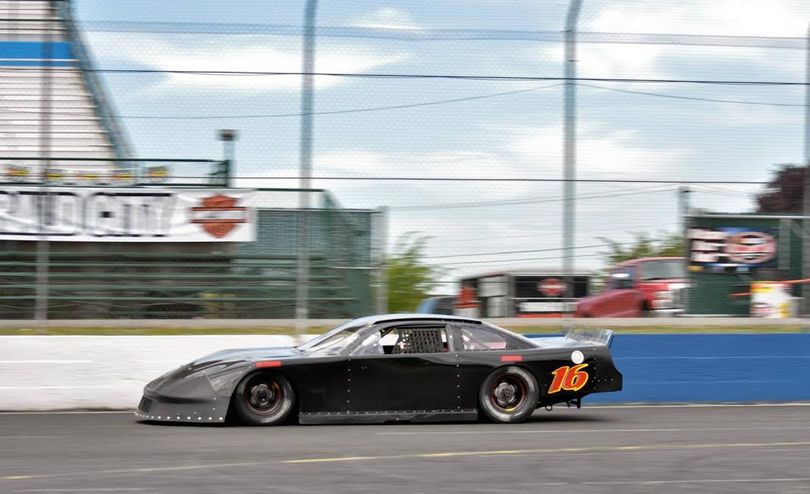 Source: Jeremy Anders, TTSLMS Media Director
The Northwest's to drivers invade Stateline Speedway this weekend as the Tri Track Super Late Model Series runs its Idaho Tune-Up 150. Featuring past NASCAR Northwest Tour champions Garrett Evans and Gary Lewis along with risings stars such as Snohomish's Doni Wanat, they'll have their hands full as local drivers will be out to defend the home turf. One local to keep an eye on will be Blake Williams who posted a second-place finish in the series most recent event, held May 30 at Evergreen Speedway. See below for news and notes regarding the weekend.
2015 Tri-Track Super Late Model Series
RACE FACTS & NOTES OF INTEREST
WHAT: Idaho Tune-Up 150
Race No. 4 of 9
WHERE: Stateline Speedway
Post Falls, ID
WHEN: June 6, 2015
DISTANCE: 150 Laps/ 37.5 Miles
SANCTION: Tri-Track Super Late Model Series (TTSLMS)
PROMOTER: Stateline Speedway
THE RACETRACK: Stateline Stadium Speedway is a high-banked .250-mile oval with a Figure 8 track embedded as well. Elevated concrete grandstands make for amazing views of the action for spectators.

10 IN THE EVENT (Stateline Speedway Event)
1.Ryan Wells
2. Blake Williams
3. Braeden Havens
4. Gary Lewis
5. Nicole Behar
6. Tylor Schweigert
7. Jason O'Neil
8. Dave Garber
9. Shelby Thompson
10. Andy Brown
2015 Tri Track Series Top 10 Points
Garrett Evans 277
Doni Wanat 256
Parker Stephens 232
Mitch Kleyn 230
Tayler Riddle 204
Blake Williams 184
Scott Walker 170
Kelly Mann 167
Braeden Havens 166
Shelby Thompson 164
NOTES OF INTEREST:
The Idaho Tune-Up 150 will mark the first trip to Stateline Speedway for the Tri Track Super Late Model Series. The series will return on July 31-August 1 for the running of the 16th Annual Idaho 200.
Garrett Evans continues his quest for back-to-back series championships. Evans still has not notched a win in the series but consistency in Top 10 finishes has kept him atop the point standings.
Killer "B" Racing Team drivers Braeden Havens and Shelby Thompson will look for big things this weekend as the series heads to their home track. Thompson looks to become the only 3-time winner in series history. Havens is looking to capture a win on the series and took 3rd in this event just one year ago.
Mitch Kleyn is coming off a win this past weekend at Spokane County Raceway in the track's late model division. Kleyn and his team will look to carry that momentum into this weekend's Idaho Tune-Up 150.
Doni Wanat currently sits 2nd in the Championship points standings and he heads to Stateline Speedway for the first time in his career.
Montana driver Ryan Wells will look to defend his win from 2014 Idaho Tune-Up 150 as he is on the race's pre-entry list
Gary Lewis will be looking to bounce back from two DNF's at the last two events. Lewis has had a lot of success of Stateline Speedway in the past including three Idaho 200 victories.
Blake Williams is coming off an impressive 2nd place run at Evergreen Speedway. This weekend the Spokane Valley native returns to his home track where he has already captured an Idaho 200 win in 2013 and runner-up in 2014 Idaho Tune-Up 150.
STAT OF THE WEEK:
• Doubling Down? The top 2 qualifiers will have the opportunity to go to the back of the field for the Idaho Tune-Up 150 and will double any winnings they get based on their eventual finishing position. If they win the Idaho Tune Up 150 from the back of the pack that could mean a payday of $6,000.
UPCOMING ON THE TRI-TRACK SUPER LATE MODEL SERIES:
The Tri-Track Super Late Model Series takes a month off before heading back to Evergreen Speedway, but this time the drivers will be looking to tackle the tricky .375-mile oval. Follow the Tri Track Super Late Model Series on Facebook or www.tri-tracksuperlatemodelseries.com for more information.
---
---