Sun., June 7, 2015
Blake Williams Captures First Tri Track Series Win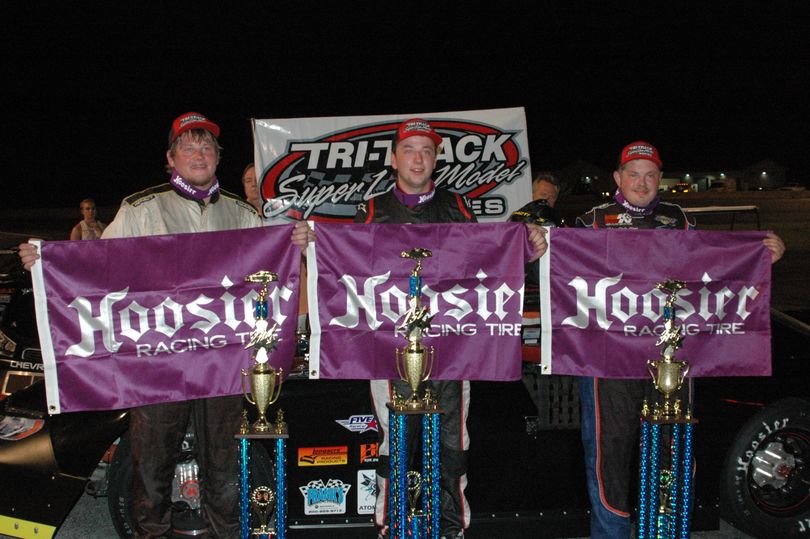 Courtesy: TTSLMS Media Relations
Post Falls, ID (June 9, 2015) – Saturday night Blake Williams took the lead on Lap 1 and never looked back when he won the Idaho Tune Up 150 leading every lap. This was Williams first career Tri Track Super Late Model Series win in just his 4th start. One year ago, Williams finished 2nd in the Idaho Tune Up 150 and his 2014 season was cut short weeks after the race, when he was injured in car accident. Williams now has 3 consecutive Top-5 finishes in his first 3 starts since coming back from his injury.
The day started out it with defending Idaho Tune Up 150 winner Ryan Wells snagging the Pole with a 13.237 with NASCAR K&N Pro West Driver Gracin Raz second fastest. Both drivers were given the option to go to the rear of the field to "Double Down" on their prize money and both took the option. Williams was third fast on the day but had previously held the second spot and was looking forward to "Doubling Down" but Raz's Transponder did not work during his initial qualifying. Raz would come back out at the end of qualifying and knock Williams out of the top 2.
Dave Garber and Williams started on the front row with both Raz and Wells dropping to the back. Williams took a great start to grab the lead early on. The first 100 laps went green flag, giving Williams a chance to work his way through lap traffic and put space between him and the field. Gary Lewis worked his way into the second spot followed by Evans. Both Wells and Raz worked their way from the back of the pack with Wells making it into the Top 10 by Lap 35 and all the way to the Top 5 at lap 100. A competition yellow was thrown at Lap 100, giving drivers and crew a break to come in for fuel, two tires and adjustments.
The restart of the last 50 laps would have Williams on the inside and Lewis taking the outside. Williams started out just like he left off from the first 100 getting a big jump and taking off from the field. Lewis would begin a battle with Evans in the early laps of the 50 lap shootout. Evans dived to the inside of Lewis in turn 1 to get around Lewis for the Second spot. The following lap Evans made contact with Lewis, sending Evans hard into the front stretch wall and down off the track into turn 1. Evans the TTSLMS points leader heading into the race, walked away from the accident but would retire from the evening in 11th place. Officials sent Lewis to the rear of the field for the contact to Evans.
Lap 145 would be the 2nd restart putting Williams next to Braeden Havens. Once again Williams dominated the start and pulled away. Wells would reach his highest point of the evening grabbing second spot from Havens on Lap 108. Shelby Thompson would make a late run to pass both his Wells and his teammate Havens to grab second. The handling on Wells car started going away, eliminating his hopes to "Double Down" as he fell back to fourth spot. Williams would take the field green the rest of the way and grab the checkered flag at his home track. Thompson would finish second followed by Havens, Wells and Lewis.


Idaho Tune Up 150 QUOTES & NOTES
Winner: No. 16 Blake Williams
""I can't believe we won, I wish we would have had the chance to go for the double down. My crew did an amazing job on the car this weekend and can't thank my crew chief Kevin Richards for all he did. It's been a rough year but feels really good to win at my home track. We've had a really good car these last 2 races and look forward to continue the success."
2nd Place: No. 20 Shelby Thompson
"Feels really good to finish second, I don't think we had anything for Blake and great to see him get a win. I had a lot of fun battling my teammate. Big thanks to my crew and car owner Todd Havens for all the hard work."
3rd Place: No. 83 Braeden Havens
"It was nice to be able to race at our home track against all these guys. We had a pretty good car that my crew got me today and we just fell a little short. We had some fun battles out there with our teammate."
Doni Wanat continued his consistency with another Top-10 finish in 7th. He currently sits 2nd in the points, just 9 behind leader Evans. This was his first trip to Stateline Speedway.
Blake Williams became the first driver to ever lead every lap of a Tri Track Super Late Model Series race with his win at the Idaho Tune Up 150.
Gary Lewis ended his streak of DNF finishes with a strong 5th place performance after struggling earlier in the day of practice.
Garrett Evans posted just his 2nd Career DNF finish in the TTSLMS after his contact with Lewis. He continues to hold the points lead just 9 points over want.
Mitch Kleyn snagged a 8th place finish and moves into 3rd place in the championship points standings
The Idaho Tune Up 150 was the first race in series history to have just 1 Caution.
TRI-TRACK SUPER LATE MODEL SERIES OFFICIAL RESULTS
Idaho Tune Up 150
Stateline Speedway .250 mile oval
150 laps
Finishing position/Car No./Name/Hometown
1. 16w Blake Williams Spokane, WA
2. 20 Shelby Thompson Spokane, WA
3. 83 Braeden Havens Airway Heights, WA
4. 5 Ryan Wells Hingham, MT
5. 73 Gary Lewis High Bridge, WA
6. 15 Gracin Raz Lake Oswego, OR
7. 89 Doni Wanat Woodinville, WA
8. 1 Mitch Kleyn Quincy, WA
9. 93 Dave Garber Spokane, WA
10. 09 Clint Habart Cranbrook, BC
11. 64 Garrett Evans East Wenatchee, WA
12. 11 Ed Thomsen Pasco, WA
13. 51 Glen Knutson Quincy, WA
14. 29 Jason O'Neil Spokane, WA
15. 14 Chris Kellogg Spokane, WA
16. 19 Justin Popple Spokane, WA
DNS 72 Kameron McKeehan Lewiston, ID
DNS 66 Jeff Smyth Kalispell, MT
Lap Leaders: Williams 1-150
Race Contingency Awards-
Fast Time- No. 5 Shane Harding 13.237-sec.
JOES Racing Products Hard Charger- No. 5 Ryan Wells (advanced from 15th to 4th place)
Longacre Racing Products Long Haul Award- No. 5 Ryan Wells (traveled approximately 944 miles round-trip from Hingham, MT to Post Fall, ID)
---
---