Mon., June 29, 2015
Mayhew Captures NASCAR K&N Pro Series Sonoma Win With Late Race Pass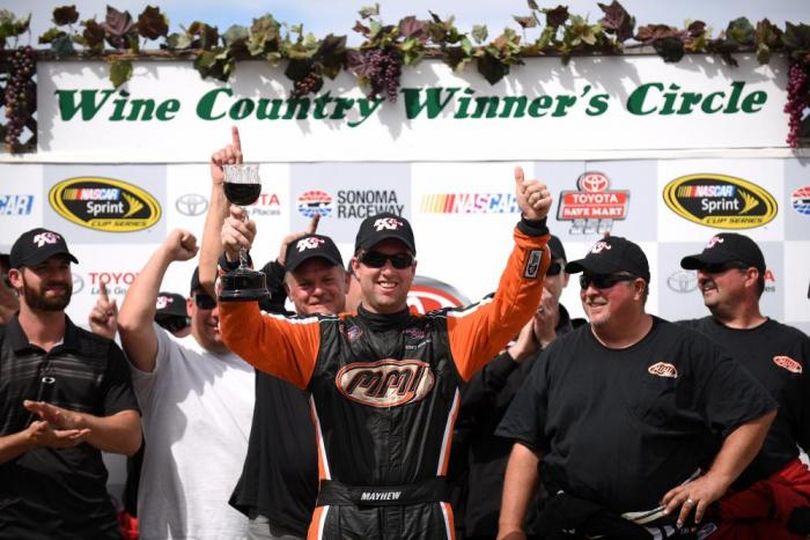 By Brooke Franceschini, NASCAR
SONOMA, Calif. - Dalton Sargeant led and led and led. And then, he didn't.
For almost the entirety of Saturday's Carneros 200 at Sonoma Raceway, Sargeant, a regular in the NASCAR K&N Pro Series East, looked primed to steal another one from his West series counterparts.
Then, with four laps remaining, Dave Smith's Dodge slid off course. And the yellow flag flew.
That proved to be Sargeant's undoing, as pole winner David Mayhew used a strong restart and eventual pass for the lead on the first lap of a green-white-checkered finish to capture his first victory of the season. It was his ninth victory in 92 career races in the NASCAR K&N Pro Series West.
It was also payback for the finesse move Sargeant pulled on Mayhew on Lap 3. Sargeant, a member of the current NASCAR Next class and Sunoco Rookie of the Year contender in both the East and West, dipped his No. 52 GALT Chevrolet under Mayhew in the hairpin turn (turn 11) to grab a lead he held for all but the final two laps.
Mayhew led the first two and final two laps. In between, Sargeant, who won the season opener at Kern, led a total of 64 laps.
"Those last few laps were tense for sure," Mayhew said. "We've been second a few times, third. We've been right there knocking on the door. It's great to finally come away with the win."
After winning two of the first four races in 2014, Mayhew entered Sonoma winless in any of this season's first five races. The goose egg wasn't for lack of effort. In the series' last race at Shasta Speedway, Mayhew led the first 92 laps of the 150-lap event only to succumb to a faulty rear end that forced his first DNF of the season.
Sargeant finished second , followed by J.J. Haley, Ryan Partridge and William Byron. NASCAR Sprint Cup Series regulars Austin Dillon and Trevor Bayne finished sixth and 10th, respectively, in their tune-up for Sunday's Toyota/Save Mart 350.
Chris Eggleston, the points leader entering Sonoma, saw his lead dwindle after a 13th-place run, but by a single point. He heads into the July 11 race at Stateline Speedway with an 11-point lead over Garcin Raz.
Native son James Bickford, from nearby Napa, struggled at his home track, finishing a disappointing 28th.
---
---