Tue., May 26, 2015
Kelly Mann Bests Spokane's Blake Williams For Tri-Track Super Late Model Series Victory at Evergreen Speedway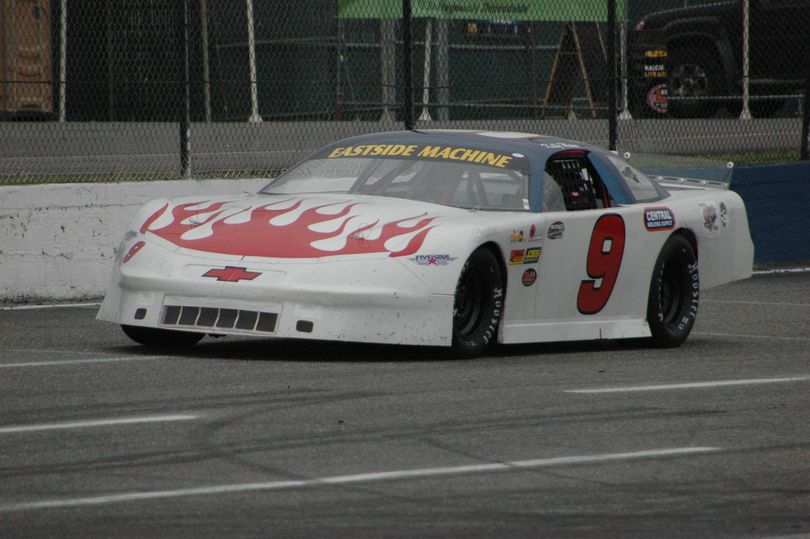 Source: Jeremy Anders, Tri-Track Super Late Model Series
MONROE, Wash. (May 25, 2015) - Most drivers that hit the wall during their qualifying run would not be able to forget about that and bounce back to have the dominate car and win. Well Kelly Mann isn't most drivers as he captured a big win Saturday night at Evergreen Speedway for the Tri Track Super Late Model Series and NASCAR Late Models Mark Galloway 150 win. The 30 car field made for exciting racing action all night long on the Big 5/8

th

track.
The day began with the 30 car field taking the track for qualifying. Shane Harding grab the quickest lap with a 22.204. Late in qualifying Mann took to the track with the car sliding and hitting the front stretch wall followed by the next car Parker Stephens taking a spin. Series and track officials checked the track and discovered oil that was left from the previous car putting a hole in the Oil Pan. Officials gave both Mann and Stephens the opportunity to re-qualify with Mann snagging 8

th

fastest lap and Stephens 17

th

.
Harding would draw a 4 for the invert and put young gun Blake Williams on the Pole with Mike Longton on the outside to lead the field to green for the 150 Lap Main. Longton would take a great run down the front stretch to grab the early lead. Lap 23 would see the first Yellow with fluid all over the track putting the field under Red so officials could clean the track. The cars took back to green on lap 27 but after an up front car slowing out of 2 caused a big accident on the backstretch that gathered up 4 cars including Jessica Dana, Ron Eaton, Parker Stephens and Gary Lewis. Longton would continue his lead until lap 48 when Williams would get a big run into turn 1 to snag the top position. Longton would continue to fall back until coming in later to discover a tire going down. Williams would lead for the next 40 laps until the battle of the night would start when Mann got around Williams off of turn 4. The two would have a back and forth battle the rest of the night. The turn 1 wall was the wrecking ball on the evening collecting John Boyatt when his transmission locked up full speed down the front stretch sending the car hard into the wall on Lap 84. Followed by Jeff Knight who backed into the turn 1 wall after contact with Luke Selliken on lap 125.
Mann would take the lead into the lap 100 break where he said all they did was change the tires and made no adjustments. The no adjustments would pay off as Mann would go on to lead the next 49 out of 50 laps with Williams applying pressure on the short runs but Mann taking off during longer green flag runs. Williams would get one more shot with a late caution brought out by early race leader Longton spinning on the front stretch. Mann held off Williams on the late restart after Williams tried the outside line. Mann crossed the finish line for the win of the Tri Track Super Late Model Series and Evergreen Speedway NASCAR Late Models Mark Galloway 150 with a 1.994 gap to 2

nd

Place Williams. NASCAR Late Model Points Leader Mike Holden would finish 3

rd

followed by NASCAR K&N Pro West Rookie Driver Gracin Raz 4

th

. Rookie Luke Selliken would finish 5

th

after earlier incident sent him to the rear of the field.
Mark Galloway 150 QUOTES & NOTES
Winner: No. 9 Kelly Mann
"Feels good for us to get a win at Evergreen, we haven't won here since 2012 and this is a pretty big one. I tried to save tires the first 100, after the break and the new tires I just gave it all we got. Big thank you to all my crew and sponsors for all the hard work."


2

nd

Place: No. 16 Blake Williams
"Feels really good to finish second, I tried to get Kelly but he had a great car and it was a lot of fun to race with him. It's only my 2

nd

time in the car this year and my crew gave me a great car. We will go back and try to grab a win at our home track in 2 weeks."
3rd Place: No. 32 Mike Holden
"It was a lot of fun to race against all the local guys and to have the touring guys here as well tonight. This is a great finish for the team and look to keep the momentum going in the season. My guys gave me a great car and looking forward to our next race."
• Doni Wanat debuted a new car with a 7

th

place finish that will help in him in both his NASCAR Late Model Points and TTSLMS Points. He entered the event in 2

nd

and 4

th

place in the respected point's races.
• Luke Selliken broke a rear end in qualifying and had to start 29

th

on the field. The 16 year old would advance 24 spots to finish 5

th

in just his first start on the Evergreen Speedway 5/8

th

track.
• Garrett Evans continues his streak without a win on the Tri Track Series but has now finished in the top 10 in 13 out of 14 career Tri Track Series races. He also snags the points lead with 6

th

place run.
• Mitch Kleyn made his first start in his career at Evergreen Speedway and had a top 10 run going when he mechanical issue on lap 130. Kleyn now moves into the Top 5 in points.



TRI-TRACK SUPER LATE MODEL SERIES OFFICIAL RESULTS
Mark Galloway 150
Evergreen Speedway 5/8

th

mile oval
150 laps


Finishing position/Car No./Name/Hometown
1. 9 Kelly Mann Monroe, WA
2. 16w Blake Williams Spokane, WA
3. 32 Mike Holden, Clearview, WA
4. 15 Gracin Raz, Lake Oswego, OR
5. 3 Luke Selliken Portland, OR
6. 64 Garrett Evans East Wenatchee, WA
7. 89 Doni Wanat Woodinville, WA
8. 75 Brandon Scheiber Maple Valley, WA
9. 08 Greg Scott Monroe, WA
10. 11 Ed Thomsen Kennewick, WA
11. 8 John Urquhart Vancouver, BC
12. 13 Jeremiah Johnson Monroe, WA
13. 37 Mike Longton Moxee, WA
14. 5 Ryan Wells Hingham, MT
15. 29 Shane Harding Surrey, BC
16. 1k Mitch Kleyn Quincy, WA
17. 80 Jimmy Raybourn Everett, WA
18. 70 Jeff Knight Monroe, WA
19. 90 Molly Helmuth Seattle, WA
20. 00 Naima Lang Lynnwood, WA
21. 10 John Boyatt Graham, WA
22. 31 Jason Fraser Snohomish, WA
23. 16m Daniel Moore Spokane, WA
24. 20 Andy Sole Cle Elum, WA
25. 7 Ron Eaton Lakewood, WA
26. 4 Parker Stephens Tumwater, WA
27. 73 Gary Lewis High Bridge, WA
28. 12 Jessica Dana Olympia, WA
29. 30 Tyler Baker Vancouver, BC
30. 92 Tommy Rasmussen Graham, WA
DNS 25 Randy Marshall Jr. Yakima, WA
Lap Leaders: Longton 1-48, Williams 49-88, Mann 89-133, Williams 134, Mann 135-150
Margin of Victory: 1.994-sec.
Time of Race: 1 hour 49 minutes 10 seconds
Race Contingency Awards-
Fast Time- No. 29 Shane Harding 22.204-sec.
JOES Racing Products Hard Charger- No. 3 Luke Selliken (advanced from 29

th

to 5

th

place)
Longacre Racing Products Long Haul Award- No. 5 Ryan Wells (traveled approximately 1,454 miles round-trip from Hingham, MT to Monroe, WA)
---
---