Fri., March 24, 2017
Beyond potholes: how Spokane's street department rates road quality
Every one of the more than 11,000 blocks of street in Spokane has a numerical rating on a 0-100 scale. We dug into those ratings this month to see which streets and neighborhoods had the best and worst pavement.
If you're wondering how the city figures out those numbers, here's a quick guide.
The ratings are based on a standardized system called a pavement condition index. Every summer, temporary city employees go out in crews and rate half the city's arterials and one-quarter of the residential streets, alternating between the areas in the map below.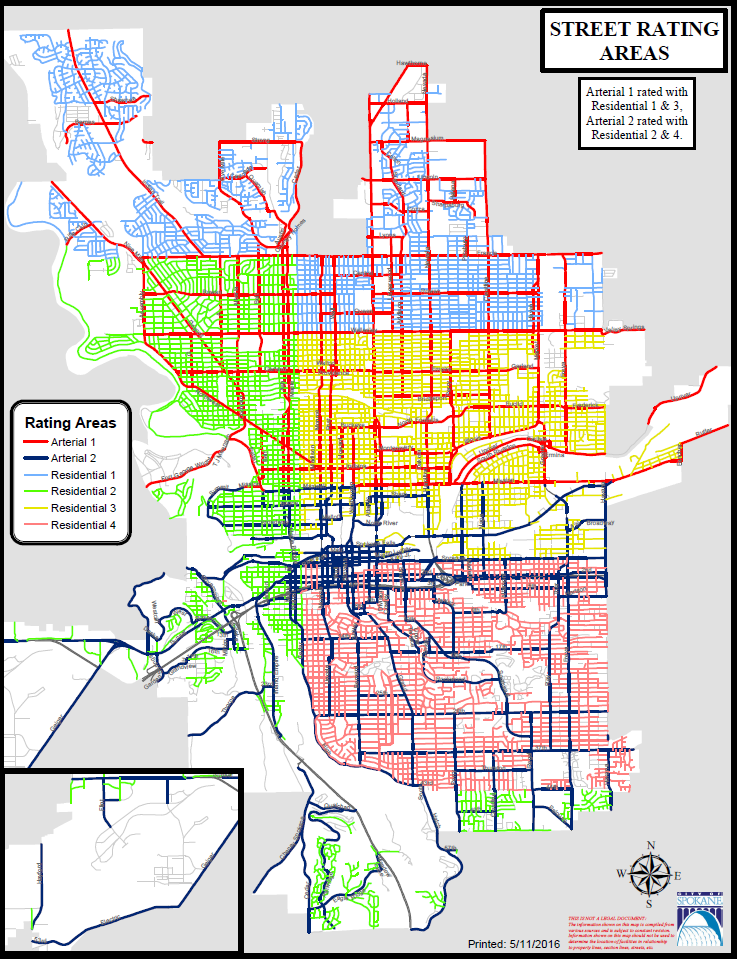 In 2016, they rated the north half of the arterials, and the second quadrant of residential streets, shown above in green. The 2017 crews will do south arterials and residential streets in area 3, covering north central Spokane.
Block by block, workers rate each section of road for nine defects: alligator cracking, longitudinal cracking, transverse cracking, patching, block cracking, rutting/depressions, raveling, weathering and distortions. Each defect is rated as low, medium or high.
The Washington Department of Transportation has a guide with examples showing what each defect looks like.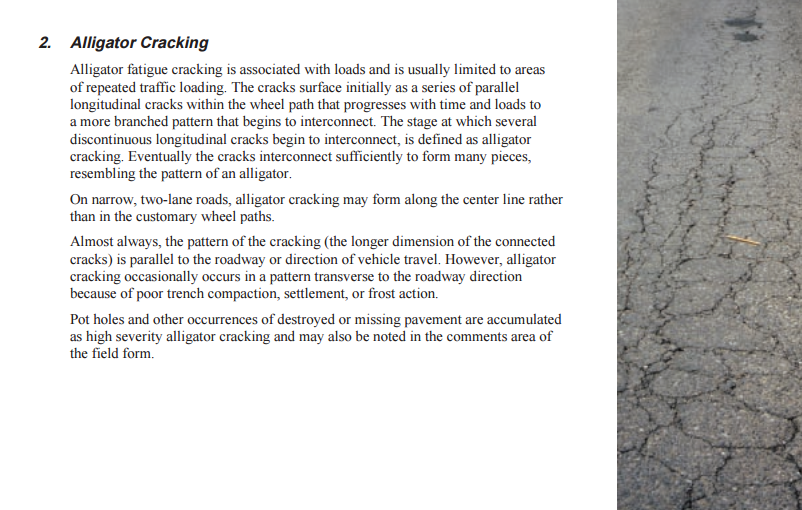 The more serious a defect is, and the more defects the pavement has, the lower its PCI will be. The final result is a number on the 0-100 scale.
Unpaved roads get a -1 rating.
In addition to the annual survey, ratings are updated when road work is done. A grind and overlay or complete road rebuilt will bring the PCI back up to 100. But road work isn't updated until the final invoice on the project is paid, which can be well after the bulk of the work is completed.
The city's work on Monroe Street between Main and Riverside late last year still hasn't been entered, for instance, and that block shows up with a PCI of 2 in the city database, even though it's been improved.
---
---