Mon., June 28, 2010
Spokane's international district sports new street banners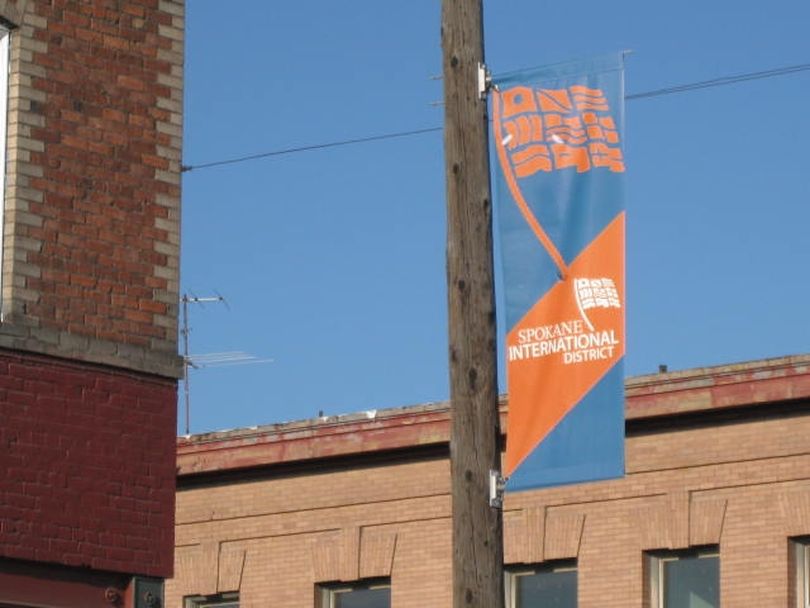 Seventeen banners have been placed near businesses along East Sprague, to call attention to that area's new claim as Spokane's International District.
First question: what do you think of the banners? And is there any other part of the metro with a better claim to the tiitle of "international district"?
Thanks to planning support provided by Seattle-based Impact Capital, the banners were recently installed on city poles along East Sprague. The district lies between Helena and Crestline, and between the railroad tracks and Interstate 90.  The idea for the banners came from the East Sprague Business District in conjunction with SNAP, the nonprofit assistance program that works with neighborhoods on economic development. A $3,500 grant from Avista Foundation paid for printing the banners.
Avista crews also reinforced or replaced some of the poles to make them sturdy enough to hold the banners and the brackets that hold them.

A portion of the $3,500 grant is not yet spent, said Tracy Reich, a spokesperson for Impact Capital. That leftover portion will likely go for a "seasonal" set of banners for the district.
The design for the logo came from Spokane ad and design firm Klundt|Hosmer. The company provided the logo design at no charge, said company founder Rick Hosmer.

From the Impact Capital press release:
"Measuring 36 by 94 ¼ inches, the banners feature the district's name and distinctive logo against bright vibrant colors, and can be exchanged with seasonally themed banners during the fall holidays. The banners help accomplish the goals of the Vibrant Communities Spokane project by visually designating the Spokane International District and ultimately resulting in a more attractive, pedestrian friendly business district that draws more customers for existing small businesses and the creation of a supportive environment for international, cultural and artistic events and celebrations.

 

 

Additionally, they serve to increase the marketability of vacant and under-utilized buildings and attract new business and business expansion while generally providing a new, positive image for the neighborhood."
---
---