Tue., June 29, 2010
Spokane's Tango electric car and Rick Woodbury progress to the X Prize finals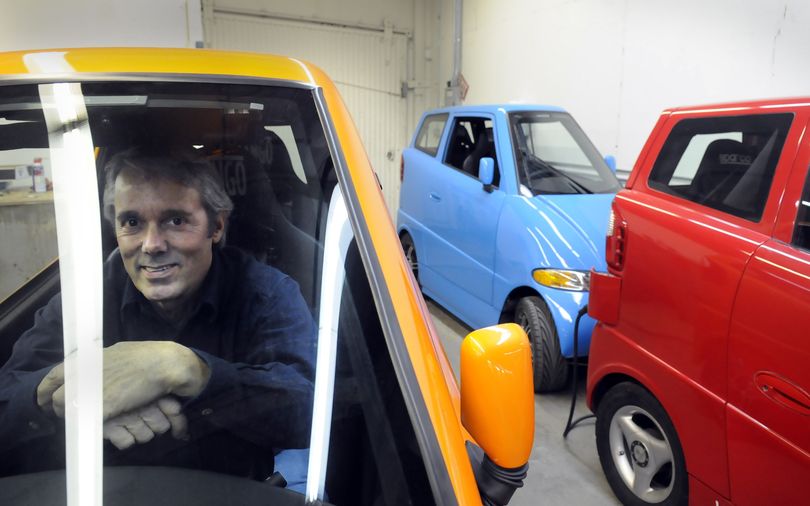 Spokane electric car maker Rick Woodbury has made it through the most recent cut at the Progressive Auto X Prize, the worldwide competition that has $10 million in prizes for innovative vehicles.  Side note: we originally said "electric vehicles." In fact, the X Prize is open to all types of vehicles, but the entries have largely been electric.

Woodbury just made it through the "knockout" phase of the competition that will identify the world's  most innovative, hyper-efficient cars.
Woodbury's tandem car, the narrow battery-powered Tango, successfully passed required maneuvering tests and miles-per-gallon-equivalency tests on a race track near Ann Arbor, Mich. Woodbury finished the test early Tuesday (June 29) and began driving the Tango back to Spokane.
The X Prize finals will start July 17, also in Michigan. In the X Prize finals, winning vehicles must perform at the equivalent level of 100 miles per gallon. In the knockout Woodbury had to deliver at least 67 mpg. He said the Tango did about 86 mpg, but he's got a few tweaks to get the engine to the 100-mpg mark.
The competition this spring was down to about 30 teams in three categories. Woodbury's Tango is in the alt-tandem category, where the prize will be $2.5 million.
Five of six entrants in the X Prize tandem group, including the Tango, made it through the knockout, Woodbury said. A sixth entry by a team from Vancouver, British Columb
ia, failed to move on.
For updates, see Woodbury's X Prize Tango page at http://www.progressiveautoxprize.org/teams/tango. 

If the Tango makes it through the finals, the X Prize requires a final validation phase that will involve engineers determining that the performance of the vehicles is consistent and within the rules of the competition. His company, Commutercars.com, has made close to a dozen of the vehicles. The model he's driving in the test is the Tango sold to Sergey Brin, co-founder of Google.

For more news on the X Prize, go to http://www.progressiveautoxprize.org/

---
---