Tue., Sept. 21, 2010
Spokane Apple store to open doors on Saturday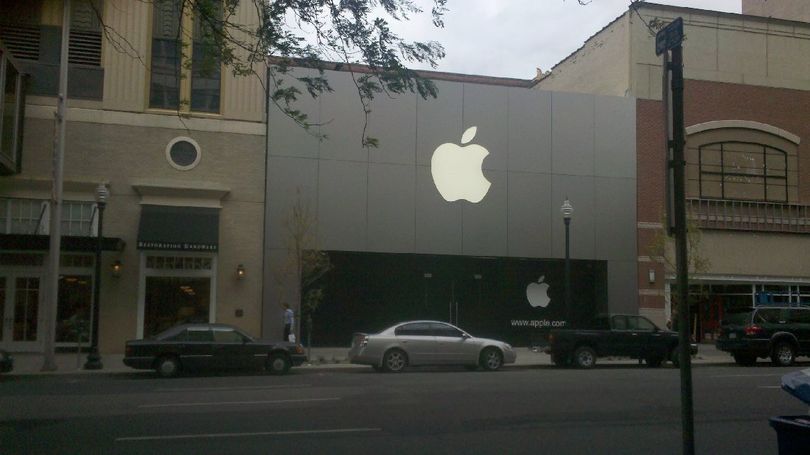 It's not that Apple HAS to tell anyone when it's going to open a new store. It's their store, and they can keep their news under a blanket as long as they want.
Yesterday, Apple finally announced its Spokane store -- the first in these parts -- will open on Saturday, in downtown Spokane. For a project costing more than $2 million, one has to say they did a fairly good job of hiding the actual start day from the rest of us.

Up to this week Apple Inc. has never said it will open a store in Spokane, even though the company's distinctive retail space has been taking shape downtown for weeks.
That changed when Spokeswoman Amy Barney said the store, at 710 W. Main, will open at 10 a.m.
Apple began planning plans to build the store as far back as February, obtaining permits and arranging a lease for space in River Park Square. The downtown shopping mall is owned by  Cowles Co., which also owns The Spokesman-Review.
This is Apple's first retail store in the Spokane area. The nearest other stores are in Bellevue, Portland and Boise. When the Boise Apple store opened earlier this month, several hundred people waited in line, according to news reports.
The Spokane store will employ more than 70 people, Barney said. 
The store will also offer free weekly workshops and  training sessions to help customers learn how to use Apple products, she said.
John Dresel, president and CEO of Banner Retail Marketing, in Liberty Lake, said Apple's decision to build a store in Spokane enhances the area's retail landscape.
"It's a great thing when a great brand like Apple comes in here," Dresel said. "It raises the level of all retail boats in the community."
"They keep it close to the chest, and then when you finally get to go inside their stores, they exceed customer expectations," he said.
---
---