Mon., Oct. 29, 2012
State's grape harvest this year to hit a record 190,000 tons, topping 2010 mark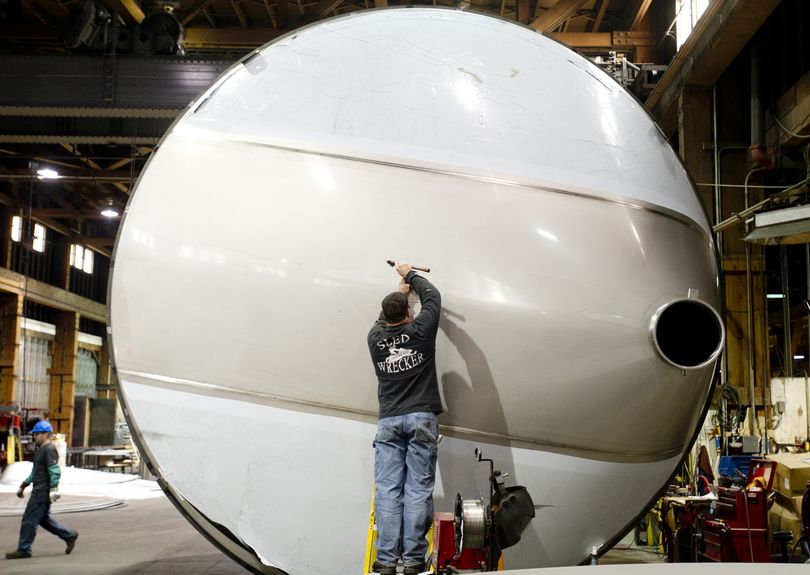 The newsy part of last Saturday's business story on Spokane Industries was the report of a record harvest for grapes in Washington state.
According to Erica Waliser of the Washington State Wine Commission, 2012 will break the harvest record: 190,000 tons of grapes will be harvested, topping 2010's 160,000 tons.
The PDF at the bottom of the page is the commission's well-written economic impact summary for our wine industry. Page 24 has numbers on the volume of wine produced.
If you didn't see the Saturday story about Spokane Industries, here's the link and the top five graphs:
It's a banner year for winemakers and wine drinkers: The Washington State Wine Commission says 2012 will be the largest grape crush ever, with 190,000 tons of grapes harvested.
A big beneficiary of that boom is Spokane Valley manufacturer Spokane Industries.
Once each workday, the privately owned company sends one of its custom-made stainless steel wine vessels out the door to a winery in Central or Western Washington.
These aren't ordinary steel tanks: They're roughly 15 feet across and 28 feet high. They hold about 32,000 gallons and weigh, on average, almost 9,000 pounds.
Company President Greg Tenold said Spokane Industries expects even more orders for the tanks, based on the booming regional wine industry.
"We've been fortunate. We are the leader servicing the winemaking industry," he said.
---
---