Wed., Feb. 12, 2014
Cyan releases modernized Myst, loaded with new visual and sonic improvements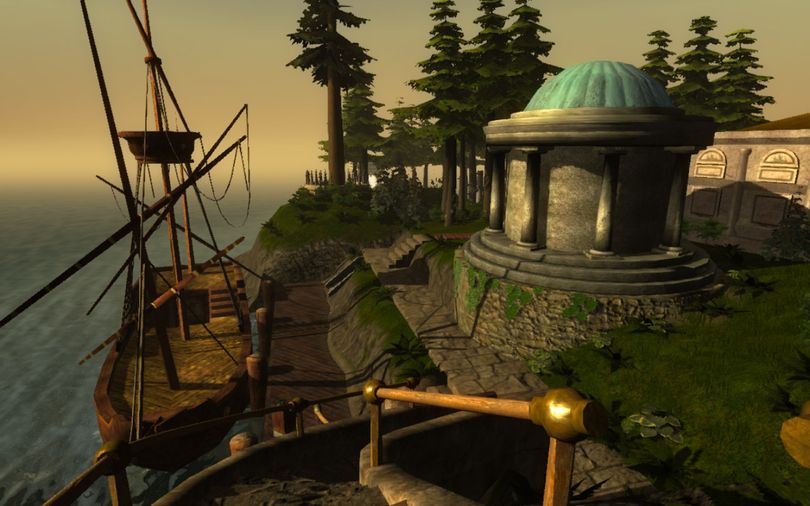 A big day for fans of Mead-based Cyan Inc. It's the official release of realMyst: Masterpiece Edition. This version is an augmented, spiffed-up version of Myst, which just celebrated its 20th anniversary. It's also a replacement for the 2000 edition of realMyst, which took the original game into 3-D.
The official press release reads: "Cyan, Inc. announces the availability of realMyst: Masterpiece Edition - a completely updated version of realMyst for MacOS and Windows. realMyst: Masterpiece Edition delivers the rich story and gameplay of the original Myst in a visually and aurally stunning, dynamic, realtime 3D experience updated for today's computers and graphics cards.
"Myst was originally released in 1993 to both critical and popular acclaim. Its storyline, environments, graphics, music, and interface created an award winning experience that made it the best-selling game of the last millennium. realMyst: Masterpiece Edition shakes that original adventure forward - updating the journey to a state-of-the-art experience. The realtime 3D environment allows for complete freedom of motion and viewing - with seamless movement from place to place. And the new, easy-to-use Classic Mode navigation option provides a simple point-and-click exploration that works just like the original Myst.
Company co-founder Rand Miller said, "To explore the islands and Ages of Myst in real time…it's an amazing feeling. We wanted to recreate the Myst experience of 20 years ago but with the sophistication that today's computer can deliver."
The ease of the "classic" Myst interface was not an easy thing to implement. "We located and marked every still image location and angle from the original Myst in 3D space in realMyst." said Jason Calvert, senior software engineer for the project. "The idea was to provide an uncompromising 3D experience with the point and click interface that made the original Myst accessible to anyone."
The real time version also makes possible visual enhancements such as day and night cycles, rippling water, waving branches, falling rain, moving clouds, setting suns, and more. And since exploration can take place at night, realMyst: Masterpiece Edition offers a unique new addition - a flashlight. The audio also benefits from real time with sounds that emanate from specific locations and react realistically as the player explores."
This edition is priced at $17.99 US. It is available immediately for MacOS and Windows on Steam and the Mac App Store. For current owners of the original version of realMyst on Steam, there is a 33 percent discount.
---
---