Tue., Feb. 3, 2015
'Greenlight' takes top Spokane pot shop honors in January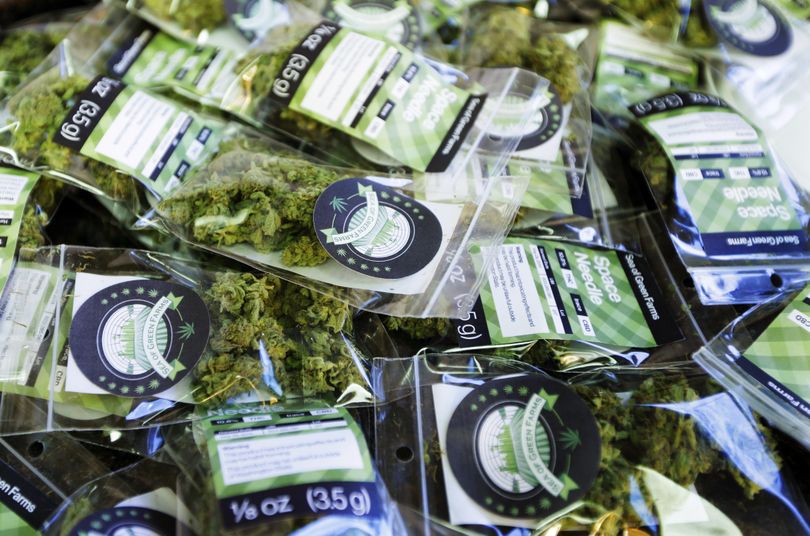 Trent Avenue's "Greenlight" reported the most retail marijuana sales in Spokane County last month, according to numbers released Tuesday by the Washington State Liquor Control Board.
The shop at 10309 E. Trent Ave. reported $271,599 in sales for the 31-day period ending Saturday. It is the first time the store, opened in September, has led Spokane's I-502 stores in sales.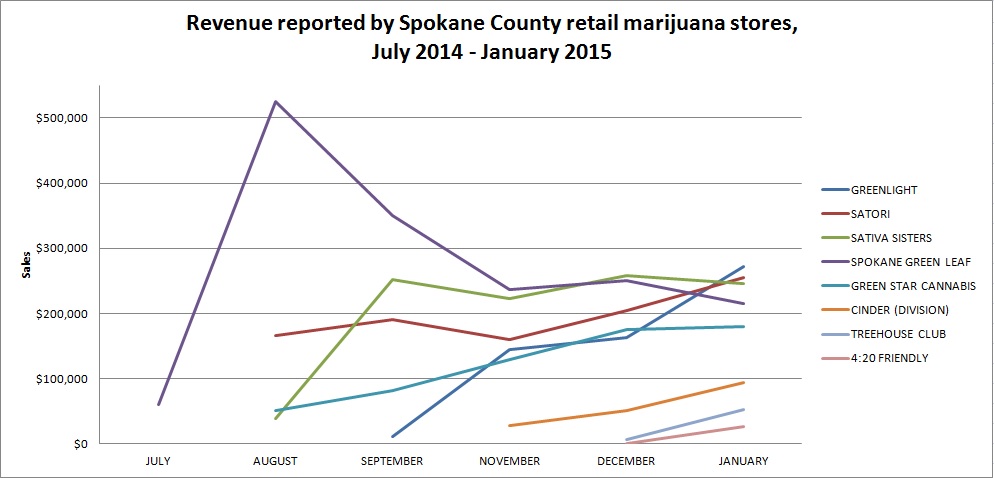 Greenlight's neighbor and last month's highest sales store, Sativa Sisters, reported the third highest sales of Spokane stores, with $254,179 in product sold. In total, 34 cents out of every dollar spent on legal marijuana in Spokane last month filled coffers on Trent Avenue.
Spokane's 10 retail marijuana stores sold a total of about $1.5 million in marijuana products last month, continuing the county's upward trend in revenue. The newest contributor to that total is 4:20 Friendly, a store that opened at the top of Sunset Hill on New Year's Eve.
"My goal was to open before the end of the year, come hell or high water," said Carol Ehrhart, who owns the store with her wife. The couple built the new store "from the ground up," Ehrhart said, and has been enjoying a younger customer base due to its location nearer Cheney than the other stores in town, she said.
"We're getting a little bit younger demographic," she said. "We're getting a lot of Eastern students, because we're close to the university."
The shop at 1515 S. Lewis is open 10 a.m. to 9 p.m. Monday through Wednesday, 10 a.m. to midnight Thursday through Saturday, and noon to 6 p.m. Sunday. Ehrhart said the shop offers about 40 strains from 10 different growers, and has been looking to "break" new producers into an already bustling market.
"We're trying to pick some of the growers who haven't had a shot to get into the store yet," Ehrhart said.
Statewide numbers show producers reported the lowest sales in January since September of last year. State farmers reported $256,000 in sales last month, compared to an all-time high of $1.9 million in November. Earlier this month, The Associated Press reported several growers across the state were sitting on large amounts of marijuana they couldn't sell because of a glut in supply.
In an email, Washington Liquor Control Board spokesman Brian Smith said the organization has not analyzed any recent drop in prices, but officials have heard some growers are waiting to sell their product when prices tick up again.
---
---