Thu., Feb. 12, 2015
UW unveils renderings of new center in downtown Spokane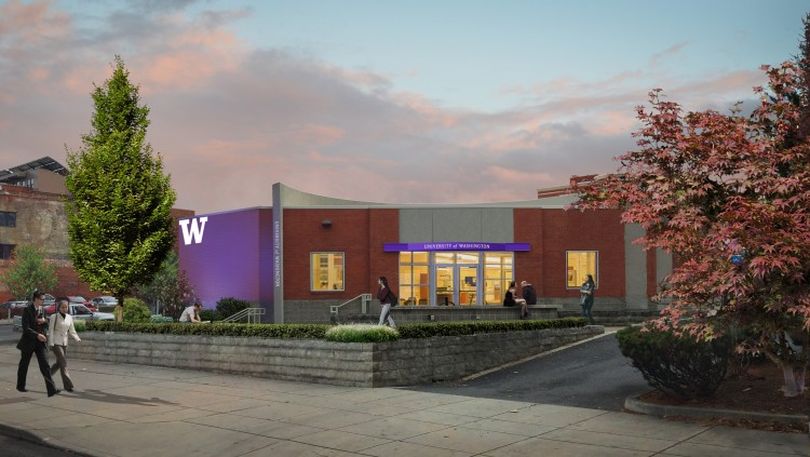 The University of Washington's plans for the former downtown Spokane visitor's center include a big purple wall adorned with a towering W.
New artist renderings of the planned UW Spokane Center provide the first glimpse of the school's push to increase its Spokane presence in the growing University District. Spokane-based Blue Room Architecture and Design has been hired by UW to lead the remodeling effort, which is expected to be completed in May.
"With the UW Spokane Center, we will be strengthening our presence with a dedicated space in the heart of the city where students, potential students, alumni and community supporters can gather for receptions, special events, or to just learn more about the University of Washington," UW Vice President of External Affairs Randy Hodgins said in prepared remarks.
UW wants to expand its existing physician training efforts in Spokane, which used to be provided in conjunction with Washington State University. The two parted ways this fall over disagreements about how best to alleviate the state's physician shortage and UW remains in discussions about a potential partnership with Gonzaga University, which is located alongside the multi-university district previously called the Riverpoint Campus.
WSU, which already has moved its health and medical science programs to its Spokane campus, wants to establish its own medical school. State lawmakers will have to decide whether to fund both or choose between the two.
Also with facilities in the University District are Eastern Washington University, Whitworth University and Community Colleges of Spokane.
The 2,600-square-foot visitor's center is owned by the city of Spokane and located at Main Avenue and Brown Street, which is on the outskirts of the district but in heart of a trendy urban enclave. UW was among three bidders for the site and will pay about $5,200 per month in the first year, which will climb to about $5,300 in the second year and then to about $5,400 in the third year. The lease terms also include an option to extend it for five years.
---
---