Thu., Jan. 29, 2015
Comcast apologizes for changing Spokane customer's name to "Asshole"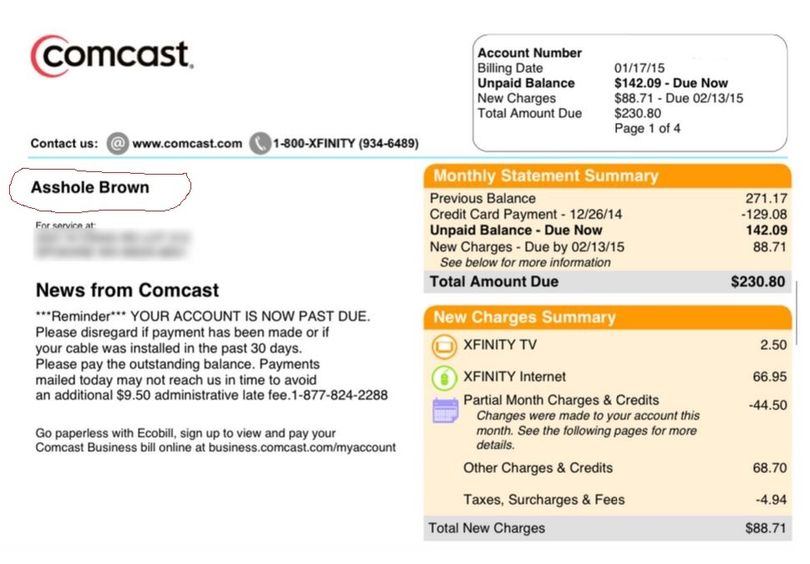 A Comcast official is apologizing today after a customer service representative apparently changed the name of a customer in Spokane to "Asshole" on her bill.
The matter was first reported by consumer advocacy blogger Chris Elliott, who said the customer, Lisa Brown, contacted him. No, not that Lisa Brown. Elliott identified Brown as a "volunteer for a missions organization."
In any case, Brown told the blog that she'd tried to cancel the cable portion of her account and was sent to a Comcast "retention specialist." (Recall this audio clip that made the rounds last summer about that process). Brown told Elliott that she wasn't rude, and doesn't understand why the customer service rep changed her husband's name on their bill.
Says Comcast spokesman Steve Kipp in a statement, "We have spoken with our customer and apologized for this completely unacceptable and inappropriate name change. We have zero tolerance for this type of disrespectful behavior and are conducting a thorough investigation to determine what happened. We are working with our customer to make this right and will take appropriate steps to prevent this from happening again."
According to Elliott and Gizmodo, Comcast offered the apology as well as a full refund for the last two years of service and two more years for free.
Update (9:30 a.m. Thursday): Lisa Brown says the blogger got it wrong - Comcast offered her either a rebate for the last two years of service, or two more years free, not both. They chose the rebate. For now, she says, they are keeping Comcast -- until they can find another service.
Also, Brown says national media are calling; she has an interview scheduled this morning with Fox Business news.
---
---