Wed., April 15, 2009
4,000 to 5,000 protest taxes at state capitol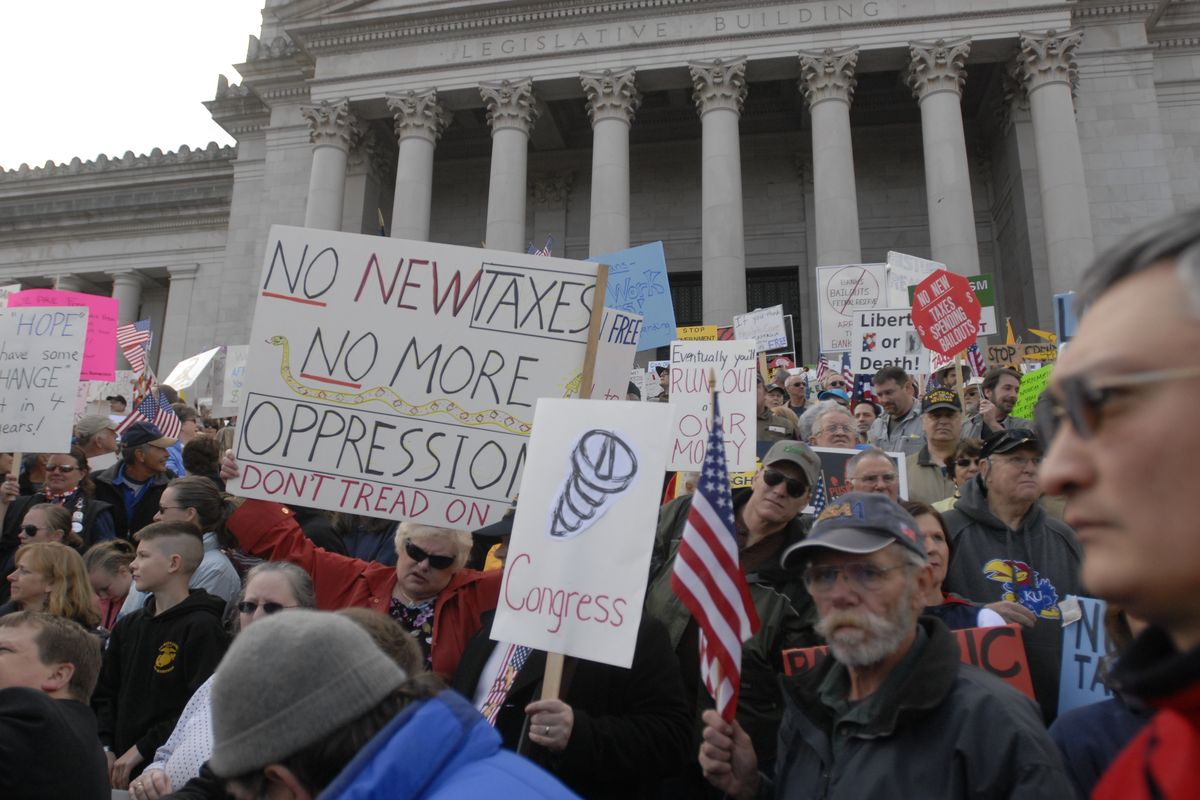 (The Spokesman-Review)
There were no torches, but there were some pitchforks.
Thousands of people descended on the state capitol today for a demonstration blasting taxes and government spending.
"We're here to remind lawmakers that they work for us," said Lynn Harsh, with the Evergreen Freedom Foundation, which organized the Olympia rally. Other rallies are taking place today in Spokane, Seattle and other cities across the state.
One speaker after another blasted state and local government as free-spending.
"Governor, if you're home, we cannot survive this debt," said conservative radio talk show host Kirby Wilbur.
Many criticized the Obama administration and the federal stimulus spending.
"They want us to hold our noses and take a little socialism, like a child taking a bitter pill," said Sen. Janea Holmquist, R-Moses Lake. But she said a little socialism is like being a little bit pregnant: "Sooner of later, you're going to give birth to a full-blown Marxist."
The crowd cheered, several times breaking out into chants of "no more pork!"
The state patrol, which had a plane overhead, estimated the crowd at 4,000 to 5,000.
UPDATE: Signs at the rally included things like "Don't tread on my money", "Born free, taxed to death", and "Obamanomics: Trickle-up poverty."
There was also one guy holding a large sign asking "Is it time to water the tree of liberty?" -- a clear reference to Thomas Jefferson's statement "The tree of liberty must be refreshed from
time to time, with the blood of patriots and tyrants."
The Olympian's Brad Shannon asked Senate Majority Leader Lisa Brown for comment on the demonstration. Here's what she had to say:
"My reaction is that at the federal level, what my mom would say is, it's like closing the barn door after the horse is already out. In other words, I think that the Bush administration dramatically expanded our national debt and created the conditions for these bailouts. I think they are laying blame in the wrong places, blaming the Obama administration for the fiscal mess the country is in right now."

Brown said that at the state level, Washington faces a "very serious recession and we're responding it to it responsibly with a balanced budget. It's a really serious setback for public schools, for higher education, for human services in Washington. So I completely disagree with their argument that it is a spending problem.''
---
---