Thu., April 16, 2009
Lawmakers blast child protective officials; DSHS defends itself…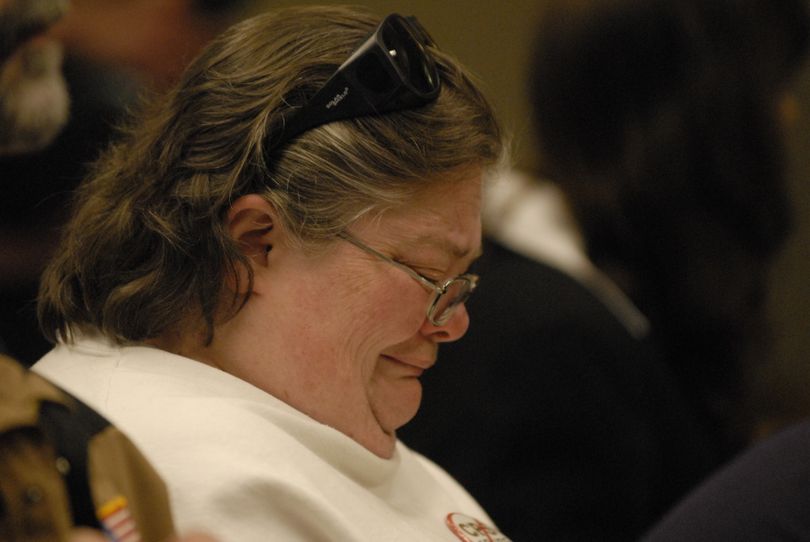 Photo: Colleen Beimer, from Bonney Lake, cries while holding a picture of her grandchildren. Richard Roesler - The Spokesman Review

Lawmakers, parents and a local prosecutor on Thursday blasted state child-protection officials, saying the state is too quick to remove children from their families.

"The system is broken. The children are forgotten," said Stevens County Prosecutor Tim Rasmussen. He said he found "a culture of deceit and deception" among Child Protective Services workers in Colville.

The standing-room-only crowd, numbering about 100, was full of parents and grandparents, some holding photographs of children.

Thursday's meeting was called by state Sen. Pam Roach, R-Auburn, who's been highly critical of state officials for months in a case involving grandparents' efforts to get custody of their 3-year-old granddaughter.

"Lies are put on desks," Roach said on the Senate floor later in the day. "Children are being hurt."

A spokeswoman for the Department of Social and Health Services said officials take such allegations very seriously.

"If someone believes that any of our staff have been dishonest, falsified documents or have retaliated against families, we ask that people report this to the Children's Administration or Office of the Family and Children's Ombudsman," said Sherry Hill.

"The first priority of the Children's Administration is the safety of children," she said. "Our goal is to keep children in their home as long as they are safe."

Of the child abuse and neglect cases investigated, she said, fewer than 20 percent result in the children being placed in foster care. And when that does happen, Hill said, "we then work toward reunification with the family if that is possible."
Still, it's clear that many lawmakers are concerned. About a dozen attended.

Rep. Joel Kretz, R-Wauconda, said he's heard an "incredible" number of complaints from many credible people.

"The agency self-investigates. They write their own reports," he said. "You can imagine what those look like."

Rep. Maralyn Chase, D-Edmonds said she's worried about reports that social workers retaliate against parents and relatives trying to keep or gain custody of children.

"I am deeply troubled at what I am finding in falsification of documents by social workers," she said.

And Kretz, Roach and Rasmussen raised concerns that social workers "target" certain children for removal from a home. That includes young kids, ones that haven't been molested, and those who come from families that weren't involved in drugs.

"I keep hearing the term `marketable children,'" said Kretz.

"Completely untrue," Hill said afterward. It's outrageous and offensive, she said, to suggest that child welfare officials would act that way or consider a child "marketable." Social workers cannot remove children from a home without a superior court order. (Police and some medical providers, she added, can authorize removal without a court order.)

It's true that sometimes the workers may make mistakes or that some may violate rules, Hill said. But if so, she said, the department wants to hear about it and will investigate it.

Washington ranks third-highest among states for the percentage of children placed with relatives, she said. Some 38 percent of those taken or given up by a parent live with relatives, she said, up from 30 percent nine years ago.

Rasmussen says that courts need more authority to review and control child placements. He and Roach are also calling for more opening of the court and agency files involving such decisions.
"You have the power to change this and you should," Rasmussen told lawmakers.

It's unclear, however, that there will be any changes. Lawmakers took no action Thursday, except to urge the audience to organize and lobby the rest of the Legislature for changes. There are no bills to make changes, and this year's legislative session is scheduled to end April 26th.

As for Rasmussen's allegations about the Colville office, DSHS defends its workers.

Randy Hart, interim assistant secretary of the Children's Administration, said that recent case reviews showed that "the staff in Colville are committed to working with families and children in the community and helping them get the services they need."

He also said that the agency is investigating the allegations raised by Rasmussen. He said the prosecutor didn't ask the Children's Administration for any documents or records, nor ask to speak with any supervisor or manager about specific cases.

Prompted by a letter from Kretz last summer, Hart said, DSHS asked a state ombudsman to do an independent review of the Colville office. The review, he said, should be done by early May.
Staff have been open to scrutiny," he said, and have worked with families, foster parents and others in critical family decisions.

---
---