Mon., Jan. 5, 2009
Eyman's new offering: a cap on all state and local taxes…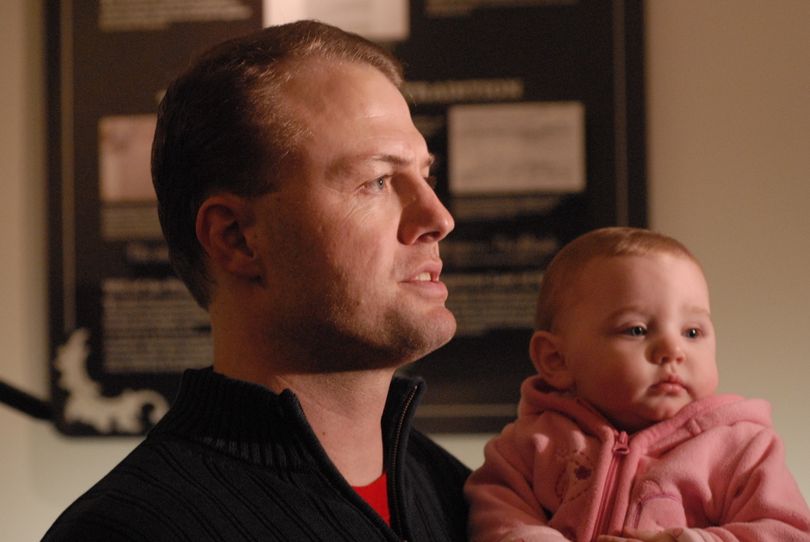 Undeterred by voters' rejection of his last ballot measure at the polls in November, initiative pitchman Tim Eyman -- baby in hand -- today filed his "Lower Property Taxes Initiative" for this year.
The measure caps the total revenue from taxes and fees at this year's level, plus the rate of inflation each year. Any "excess revenues," say from a future surge in real estate taxes or booming economy, would go into a fund to reduce property taxes the following year. As with Eyman's earlier property-tax initiative, I-747, voters could override the cap.

"We believe a majority of citizens are going to find it reasonable that governments continue to grow, but that they grow at a rate that we can afford," Eyman told reporters at the Secretary of State's office this morning. "When you have 6,7,8 percent increases in our tax burden every year, that compounds every year and it gets exponential to the point that we can't afford it anymore."
"Government isn't getting smaller," he said. "Even with the initiatives that we've passed, government has never gotten smaller. All that we've really managed to do is slow down the rate of growth of government."

The formula in Eyman's measure, however, doesn't seem to take into account population growth or other changes, like tough-on-crime laws keeping more people to prison at nearly $30k a year each. (Eyman's response: that voters can always vote for more if government makes a good case for it.)

Eyman said he expects to start circulating petiitions by February. He and his signature-gatherers will need to collect about 300,000 signatures by July in order to get the measure on the November ballot.
---
---