Mon., Jan. 19, 2009
Funeral homes, cemeteries unenthusiastic about Jacobsen's buried-with-your-pets proposal…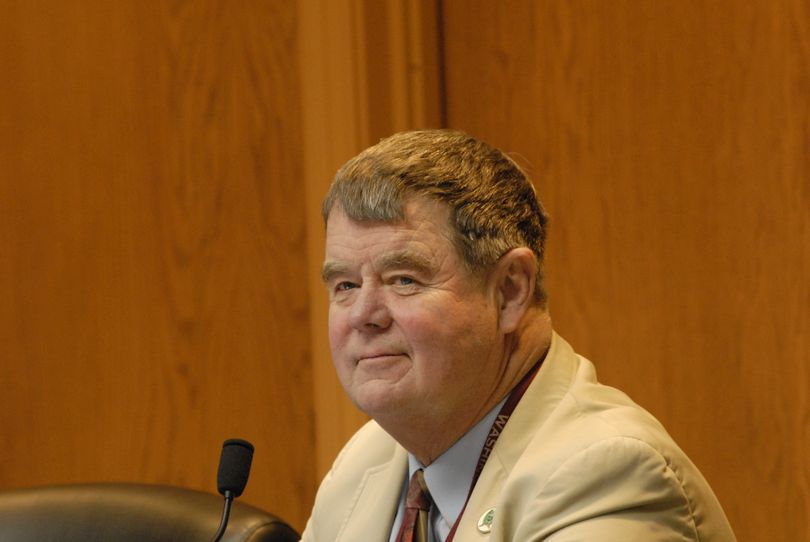 From tomorrow's paper:
On Monday, while many people had a day off, state Sen. Ken Jacobsen was facing a state Senate committee, trying to convince his fellow lawmakers to let people be buried with their pets.
He's absolutely serious. The idea to him a couple of years ago, when his beloved, 23-pound cat Sam died from cancer.

"I asked the kids to bury him in the back yard and I told them that when I'm ready to go, I'd like to take Sam with me," said Jacobsen, 63. "Because he really was one of my best friends."

The buried-with-your-pet proposal is one of 46 so far this year from Jacobsen, a Seattle Democrat who tends to be the legislature's most prolific filer of bills. Barely a week into this year's legislative session, Jacobsen has proposed an airline passenger's bill of rights, allowing pet dogs in bars, designating a state oak tree, and giving tax breaks to taverns that install on-site breathalyzers.

Last year, he lobbied unsuccessfully to restore a centuries-old tradition of outfitting the state poet -- yes, there is one -- with a large barrel of wine. This year, he wants to hire a state bird-watching expert, and to declare the marmot Washington's official "endemic mammal."

Jacobsen says his proposals may be quirky, but that they're not frivolous. If a good idea strikes him, he says, it's his job as an elected official to throw it into the mix.

"It's that theory of chaos," he said. "You put things on the table and you never know what the interactions are going to be." And he welcomes ideas, holding court regularly with constituents at a local Burgermaster.

Sometimes, Jacobsen said, what sound like wacky ideas are actually trendsetters. In the mid-80s, for example, he was mocked for championing state labeling of organic food.

"When I started the first time, I was treated like I was talking about kinky sex," he said.

The bill that's raised the most eyebrows this year...
...has been the pet burial bill, Senate Bill 5063.
It would require that cemeteries allow pet burials in human cemeteries, either in a special section of the cemetery or in an area "designated solely for the comingling and burial of pet remains and human remains." That's illegal now in human cemeteries.

Owner and pet would be in the same plot. No horses, though – the bill only covers cats and dogs. And pets wouldn't have to be euthanized just because an owner dies. They could be added to the grave later, after a natural death.

Cemeteries and funeral directors are not enthusiastic.

"I have pets, my children have pets, I've always had pets," said Russell Weeks, with the Washington State Funeral Directors' Association. "I still don't feel comfortable having my family buried with pets."

It's common for people to be buried with the ashes of a spouse, he said, but this is different.
Similarly, cemetery manager Paul Elvig said he's no enemy of pets. His cat of 20 years died in his arms, he said, "and I think I cried more than when my mother died."

Still, he said, he wouldn't put a cat in a human cemetery. For one thing, he said, he worries about offending the families of people already buried there.

"The ultimate insult to a Muslim," Elvig said, "would be to bury a dog or a cat in or around a human burial ground."

Jacobsen, in turn, cites e-mails that he's gotten from supporters.

"I would love to have my beloved pet parrot's ashes with me (when) I am laid to rest," wrote a Seattle woman. "We are inseparable in life, so why should we be separated in death?"

"I'm not really a crazy cat person, but this seems like a simple thing that would make many people happy or at peace," wrote another.

A Steilacoom man wrote to say that he keeps the ashes of his beloved golden retriever in an oak urn on his bedside nightstand.

"I miss that dog more than anyone in this world will ever know," he said.

Some lawmakers seemed supportive Monday.

"I think a person should be able to be buried with whatever they want," said Sen. Pam Roach, R-Auburn. "Certainly people are buried in their Cadillacs."

"I'd like to get it out of committee," said Sen. Darlene Fairley, D-Seattle. But instead of mandating that pets be allowed, she said, lawmakers might instead give cemeteries the option.'

"Maybe we start out with `may' rather than `must,'" she said.

Like Jacobsen, she said she's received many emails about the proposal.

"So much of state government seems to not have anything to do with a person," Fairley said. "But a bill like this, they feel it's personal."
---
---