Wed., Jan. 21, 2009
Large anti-abortion rally at capitol…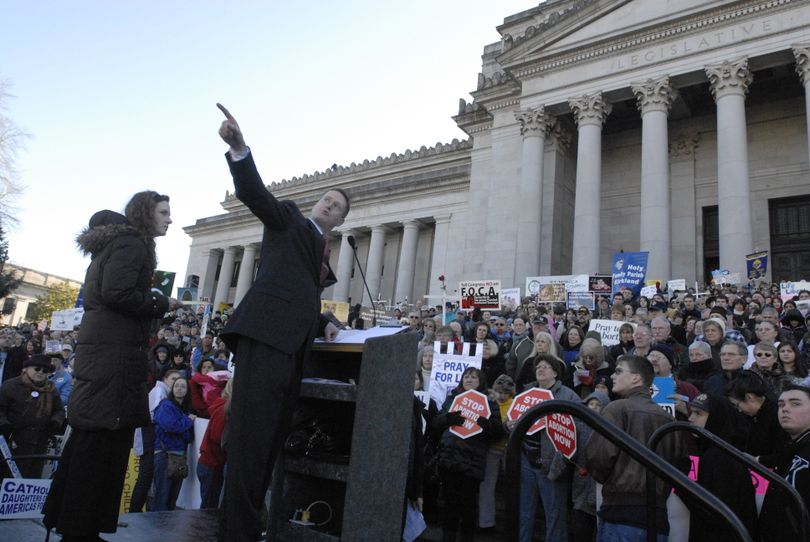 Forgot to post this before going home last night:
More than 4,000 people crowded the Washington state Capitol steps Tuesday to decry abortion.

"Let's make sure the Supreme Court can hear all of us today," newly elected state Rep. Matt Shea, R-Mead, said. He dismissed the dozen counter-demonstrators on the state Supreme Court steps as "static" and led the crowd in a chant: "Life, life, life, life!"

Organizers have long held annual anti-abortion rallies at the Capitol, but Tuesday's gathering was the largest in recent years. Buses crowded the Capitol lawn, and the crowd spilled over the Capitol steps. Many people came with church groups.

"If your neighbor is thinking about abortion, talk her out of it," said state Rep. Al O'Brien, D-Mountlake Terrace. "… Because the economy's in the tank, the abortion problem is going to get worse unless we work to prevent that."

At Planned Parenthood of the Inland Northwest, public policy director Jet Tilley said she's not anticipating any major efforts to restrict abortion in the statehouse this year.

"We have a pretty solidly pro-choice House and Senate," she said. The main issue, she said, will be trying to protect funding for family planning. It's particularly critical in rural parts of the state far from other health care, she said.

"We're really looking to protect patients and protect the family planning safety net," she said.

Also speaking at Tuesday's rally was new state Rep. Shelly Short, R-Addy. She recounted the story of a woman who kept a child even though the doctor said the baby probably wouldn't live.

"That young mother is now my mother-in-law," Short said, and the baby is her husband, Mitch.

Across a small lawn, the dozen abortion rights demonstrators shouted back at the crowd.

"I love my rights!" they chanted.
"If you don't like abortion, don't have one," one woman said.
---
---