Wed., Dec. 8, 2010
Teen hunter forgot gun in car, faces expulsion from school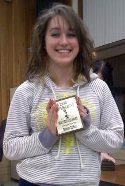 HUNTING -- A 16 year-old honor roll student and cheerleader from Columbia Falls, Mont., faces expulson from high school after she told school officials after she arrived for classes that she'd forgotten to remove her hunting rifle from her car after a Thanksgiving weekend hunt.
Even though the rifle was unloaded, in its case and locked in the trunk of her car, and even though she brought the oversight to the attenion of the school authorities, she's likely to be a victim of the school's no tolerance policy on guns, according to Mac Minard, Montana Outfitters & Guides Association executive director.
Huckleberries story plucker Dave Oliveria has the story.
---
---