Wed., Dec. 15, 2010
Wild turkeys toughest bird around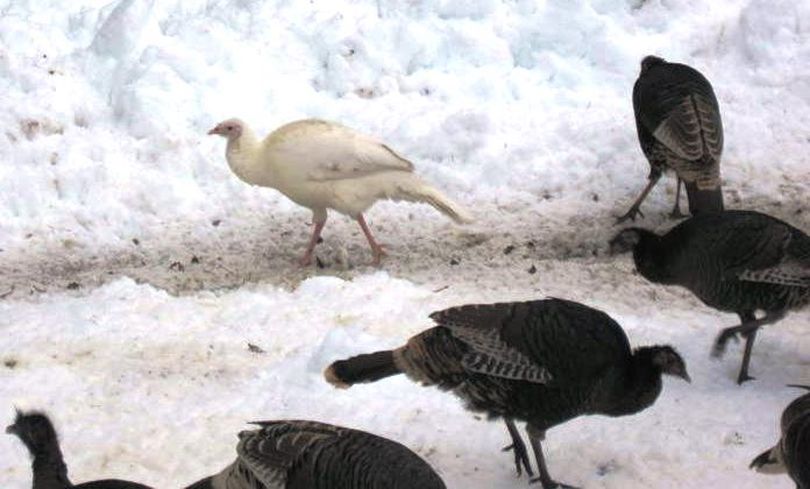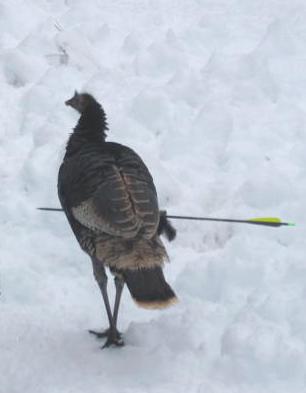 WILD FOWL -- In a testament to the species' hardiness, reports of white wild turkeys among the region's big wintering flocks are fairly common.
First, one must marvel that there are big wintering flocks after two bad winters in the past three years followed by this year's unusually wet spring nesting conditions.
Then, to see white wild turkeys surviving through spring, summer, fall and into winter reinforces the bird's top survivor status.
Albinism and white phases occur in many species, including skunks. But nature tends to be harsh on these aberrations. Lacking the natural camouflage, predators key in on them easily, although they might have some sort of advantage in the scattering of weeks when snow is on the ground. 
Sadly, another sign of their toughness is the beating they take.   Evan Johnson sent me the two photos accompanying this post.  -- the white turkey and the normal wild turkey feeding among its flock with an arrow through its breast.
The only thing worse than the shot and the arrow choice some archer made is his unwillingness to do what it takes to finish the job on a noble bird.
---
---