Sat., Dec. 18, 2010
Spokane group has cure for kids with 'nature deficit disorder'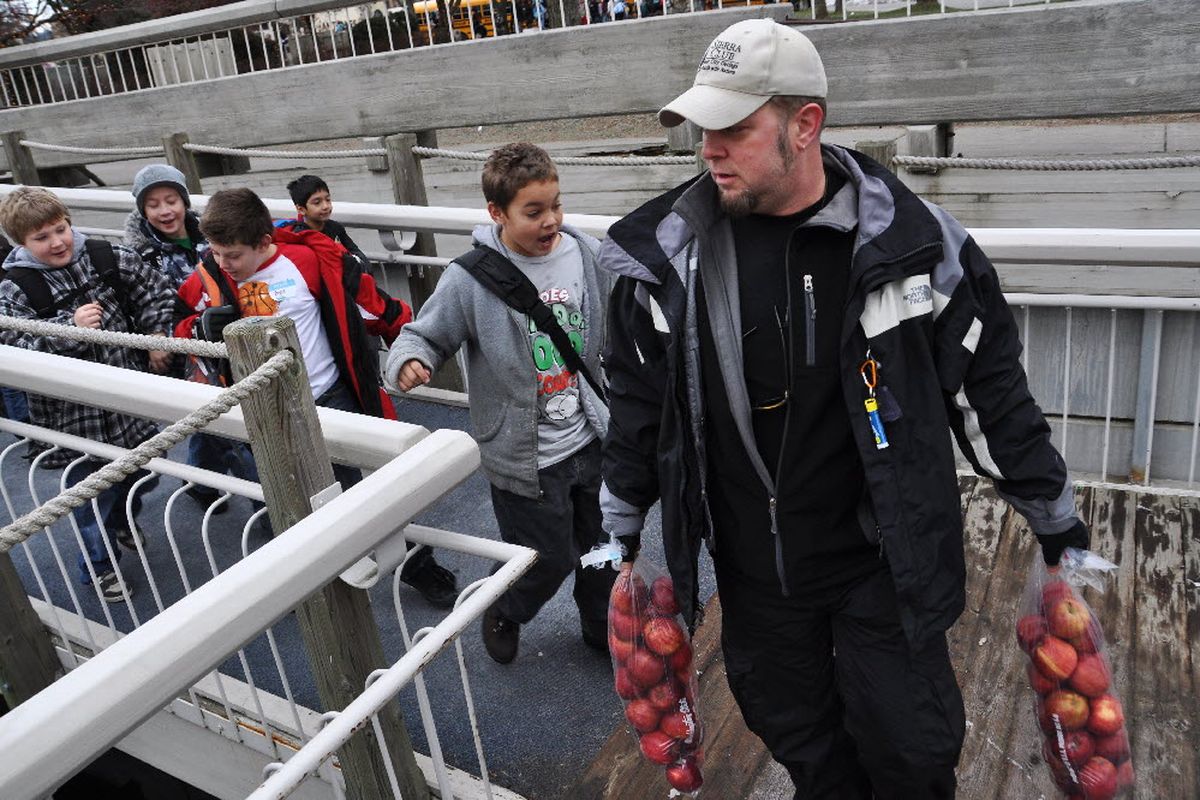 Chris Bachman, director of the Sierra Club Inner City Outings program in Spokane, leads a group of kids 8-12 years old to a cruise boat at the Coeur d'Alene Resort docks on Dec. 18, 2010, before embarking on a cruise to watch bald-eagles. (Rich Landers)
NATURE -- Saturday's snow storm contributed to the adventure for about 100 kids 8-12 years old on a Sierra Club's Inner City Outings boat cruise to view the annual gathering of bald eagles at Lake Coeur d'Alene.
"We spotted between 80-100 eagles perched and watched a dozen or so catch fish," said Chris Bachman, ICO director in Spokane. "This despite the blizzard we encountered which just added to the experience. Lots of kid and adult smiles."
The eagle cruise is just one of about 16 trips ICO organizes to help provide kids with outdoor experiences that connect them into real-world knowledge and serve as a healthy alternative to violence, alcohol, drugs and boredom.
Chris Bachman, who won a national Sierra Club award in September for working with youth, is featured in Monday's S-R print edition story as he talks about his devotion to getting kids in the outdoors.
Read on for a few insights he offered that won't make the paper.
"I read Richard Louv's book, 'Last Child in the Woods,' which identified 'nature deficit disorder' in America's kids," Bachman said. "I became aware of huge impediments to kids getting outdoors, such as covenants that prevent building tree houses and no-trespassing signs posted on the pond down the street.
"Spokane is very fortunate for what it has easy access to. A quick bus ride gets us to the Little Spokane River or to Mount Spokane to ski or snowshoe.
"On our first trip to Mount Spokane, 90 percent of the kids thought it was a ski resort, which isn't accessible to kids who can't afford a lift ticket. We showed them the mountain was open to them, with all sorts of things to do and explore. That's what we do: expose them and let them connect.
---
---