Thu., Dec. 23, 2010
Bald eagles set record at CdA today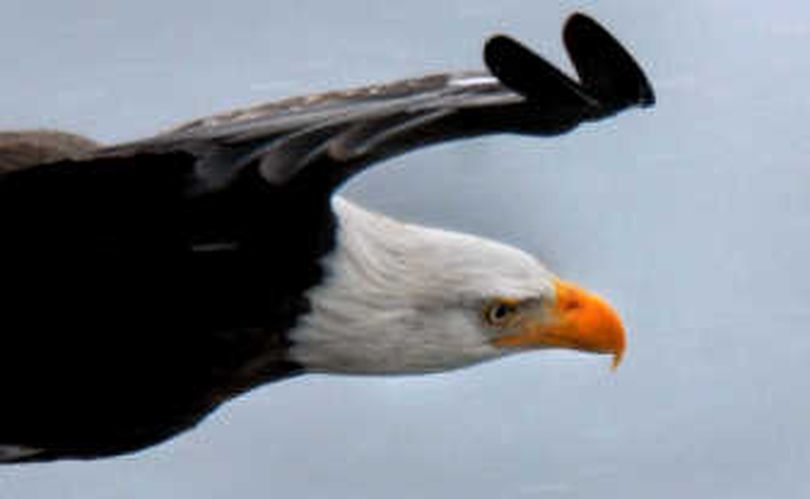 WILDLIFE WATCHING -- "I can hardly believe it myself, but the total today was 254, well over the record!" said Carrie Hugo, U.S. Bureau of Land Management wildlife biologist on Thursday after completing her weekly survey of bald eagles at Wolf Lodge Bay.
In the more than two decades BLM has been surveying the annual eagle congregation, the previouis highest count was 156 eagles in December 2004.
The 254 birds counted today compares with 104 at the same time last year, Hugo said. And it's a huge leap from the 117 she counted just last week.
"I looked at my total and wondered if I'd done something wrong," she said. "Maybe I lost track of time, but no, my time was the usual 2.5 hours."
Viewing conditions were good but not perfect, since there was still some snow on trees which makes it harder to single out the white heads of the adult eagles.
The immature eagles under 4 years old have dark heads.
The eagles congregate in winter to feast on spawning kokanee. Hugo said the numbers of the land-locked sockeye salmon look strong, so the eagles shouldn't be leaving too soon.
The eagle gathering usually peaks around this time, perfect for holiday break wildlife watching.
Wildlife biologists and Audubon Society volunteers will be staffing displays and spotting scopes for the annual Eagle Watch Week at the Mineral Ridge boat ramp and also at the Mineral Ridge trailhead off I-90's Wolf Lodge Bay exit Sunday through Jan. 1 from 10 a.m.to 3 p.m.
---
---