IEP closes land to snowmobiling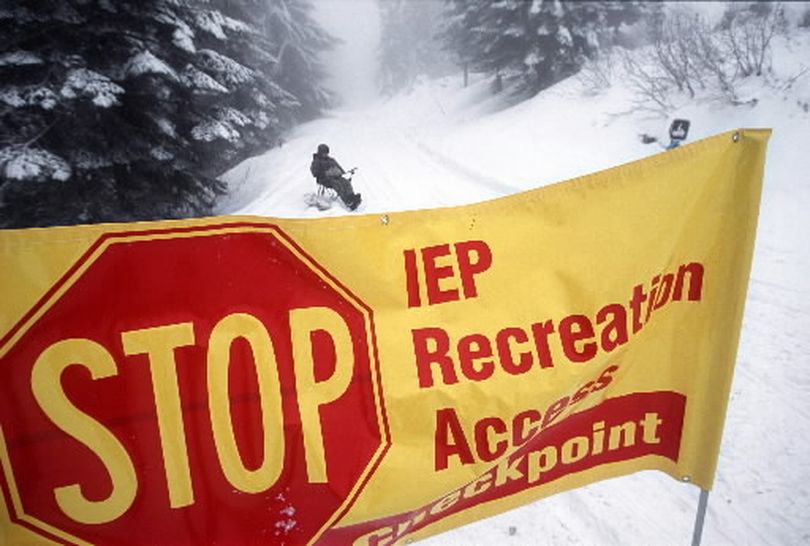 WINTER SPORTS -- Snowmobiling will be prohibited this winter on Inland Empire Paper Company lands at Mount Spokane as well as on the rest of the 116,000 acres the company manages in northeastern Washington and North Idaho.
The decision to end the decades-old welcome comes this week after years of effort to stem damage snowmobilers have been inflicting on the commercial timber lands, said Paul Buckland, forest resource manager.
Snowmobilers will be banned from 38 miles of trails previously groomed on IEP land on Mount Spokane, said Angela Simmons of Spokane County Parks and Recreation Department, which manages the grooming.
That leaves 40 miles of trails in the State Park that will continue to be groomed starting sometime after Dec. 1, she said.
"The issue is enforcement," Buckland said. "Snowmobilers who stay on the groomed trails are no problem. It's the rogue snowmobilers going off-trail and running over small trees.
"They consider recent harvest harvest areas to be play areas and they don't realize they're running over the tops of plantation trees in the snow. That causes the tree to form a second top, which greatly reduces the economic value of the tree."
"Obviously we're disappointed," said Mark Augenstine, president of the Spokane Winter Knights Snowmobile Club. "But we understand that something needs to be done about enforcement.
"We've been meeting with IEP for years and know they didn't want to block off the trails, but we haven't been able to find a solution."
Last winter, the snowmobilers and Bear Creek Lodge, which caters to Mount Spokane snowmobilers, donated $5,000 to hire off-duty state Fish and Wildlife enforcement officers to patrol the IEP lands, Augenstine said.
"But it would take about $12,000 to continue patrols and we just couldn't come up with that kind of money," he said. "We need a permanent funding solution."
Officials from state and county parks departments said they weren't likely in this period of tight budgets to find that much funding available for enforcement, either.
"IEP has done some patrolling to educate the snowmobilers, but that didn't work out so well," Buckland said.
"Our patrollers don't have ticket writing authority. We've had people smile and nod their heads and then continue on with their off-road riding."
Mount Spokane State Park rangers said that starting today they would be fencing off access to the designated snowmobile routes heading into IEP lands.
The access points to be closed are:
ŸNear the cross-country ski area for snowmobile routes heading out the Linder Ridge Road
ŸNear the base of the downhill ski area's Chair 4, to block snowmobile routes heading out Blanchard Ridge and down the Spirit Lake Road.
"We hope its temporary measure while we work with partners up there for a long-term solution," Buckland said.
Snowmobilers will continue to have access to groomed trails within the park from the main snowmobile lot and from bear Creek Lodge
Inland Empire Paper is owned by Cowles Co., which also owns The Spokesman- Review.
---
---