Thu., April 21, 2011
Blowout blocks Salmon River, creates new rapid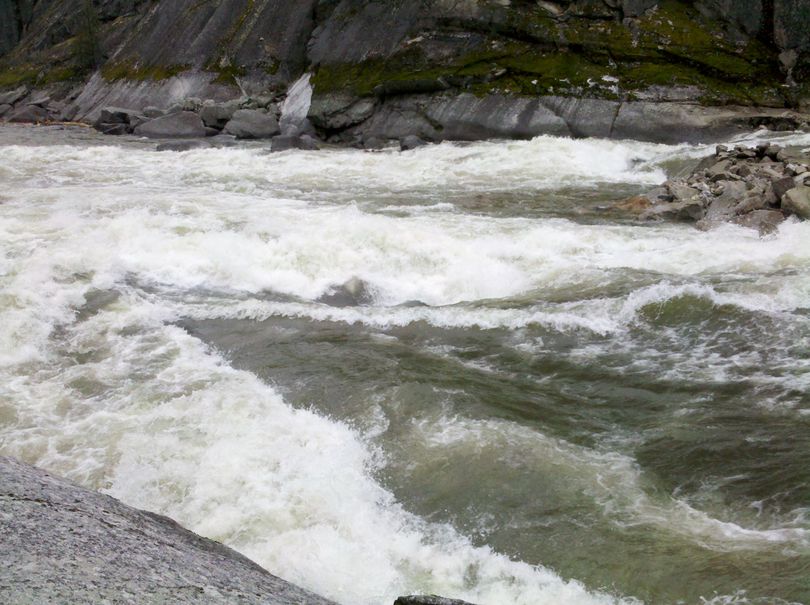 RIVER RUNNING -- The April 1 blowout of Black Creek is still blocking the main Salmon River with a logjam this week, and has also formed a big new rapid that's raised the river level high enough to totally obliterate Salmon Falls, a major rapid a half-mile upriver.
This report comes from the Challis Messenger. A gallery of photos showing the new rapid and logjam are available here.
Salmon-Challis National Forest employees confirmed April 5 that a flood had carried rocks and other debris down Black Creek, forming a new rapid with a large drop and big holes, plus creating a logjam across the entire channel, making the Salmon River impassable about an eighth of a mile below the creek.
The Forest Service's strategy is to wait and see if high water later this spring will dislodge the jam naturally, said North Fork District Ranger Russ Bacon.
Read on for more details from the Messenger's report, and quotes from a jet boater who checked out the new rapid and described it as "terrible."
a rafting group was considering a trip later this week despite the obstacle, added Linda "Rab" Walton, river manager. The Forest Service is not advising people about whether or not it's dangerous to run the river, Walton said, but in her opinion, getting rubber rafts around the tangle would be very difficult if not impossible in the narrow canyon.
A private jet boater from Grangeville was able to sneak his small aluminum boat over or through the logs on the south side of the river and run the new rapid, Jim O'Connor, owner of Arctic Creek Lodge told The Challis Messenger on April 12.
"I tried to tell him it was a bad rapid," O'Connor said. "He said, "You're right – it's horrible" after he ran it. The new rapid is significant with a big boulder in mid-channel and waterfalls on each side, Bacon said.
Salmon Falls is no longer there, it's just a flat stretch of water with no rocks sticking above the waterline, which is probably 4-5 feet higher now, O'Connor said. "There's nothing," he said. "It's unbelievable, actually." Debris forming the new rapid at Black Creek has backed slack water up to Arctic Creek, just upstream from Salmon Falls.
Although his livelihood depends upon shuttling steelhead fishermen, boaters and other clients up and down the Salmon River, O'Connor said the Forest Service's strategy to wait for high water to clear the debris is a good one and probably the safest option.
There's one big Douglas fir holding the logjam in place now and it's bowed into a U-shape from the force of the river now at low flow, Bacon said. He believes the extra force of high water will break the key log and clear things out. O'Connor agreed and added it would be dangerous for anyone to try to saw through the key log, which might snap suddenly and rebound. Since no floaters are stuck on the river, there's no reason to risk someone's safety in trying to clear it, O'Connor said.
The Salmon River gauge at Corn Creek is reading only six inches now, Walton said. High water can reach 9-12 feet.
Bacon has determined "as there are currently no values at risk, we'll wait and see what happens in high water." "Hopefully the logjam will be opened up and the new rapid will be somewhat modified to make for easier running."
Without special permission from the regional forester, it's illegal for local Forest Service employees to use chainsaws, other power tools or explosives to clear logjams in the wilderness, as was done in 2006 at Pistol Creek Rapid on the Middle Fork of the Salmon River, Walton said. That obstacle trapped 350 boaters on the river.
"We hope Ma Nature just takes care of it," Walton saidof this latest development.
What caused the flood in the first place is speculative. It obviously wasn't the typical scenario of a summer cloudburst running off soils in a forest-fire burned area, as with the 2006 Middle Fork impasse, Bacon said. But just as water doesn't soak into burned soil, it also runs right off frozen ground. That, combined with rain and runoff in the steep terrain of the canyon, may have caused the flash flood, he said.
It didn't start raining until Saturday, April 2, O'Connor said, speculating that a snow slide may have dammed Black Creek and caused the flash flood, but he won't know for sure until he flies over the area.
For now, O'Connor has booked a few jet boat tours down to a point just above the new rapid at Black Creek. He's hoping he can find a way through with his larger jet boats, because "I have a whole bunch of jet boat trips dependent on that rapid."
---
---