Wed., Aug. 3, 2011
Some late-opening forest roads choked with blowdowns, landslides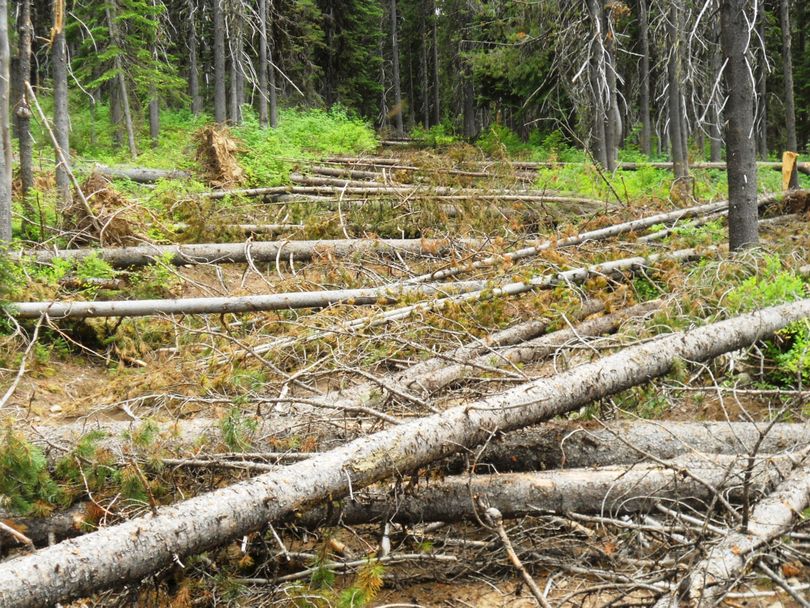 NATIONAL FORESTS -- Crews from the Clearwater and Nez Perce national forests are just getting into the backroads where this year's whopping snowpack prevented access until late July.
What they're finding isn't always pretty, as you can see from the photo above on Road 500 west of Castle Butte.
The scene is as bad or rose on a stretch of the Toboggan Ridge Road that gives access to the upper Cayuse Creek area and hikes into the Great Burn proposed wilderness area.
Read on for details and updates just sent out by the Forest Service. And call ahead to check forest road and trail conditions if you plan ambitious backcountry outings this weekend.
The 500 Road on the Clearwater National Forest is blocked by trees between Castle Butte and Liz Butte---starting today road and trail crews are working from the west end (Pete Forks) and an Idaho Department of Corrections (IDOC) crew will be working towards them from Saddle Camp starting Thursday.
Road 581 (east end of Toboggan Ridge by Blacklead) has what one visitor reported as over "400 trees down"---no photo available.
Blodgett Pass Trail out of the Elk Summit area (on the Idaho/Montana border in the Selway-Bitterroot Wilderness) is hazardous and not passable, this is the trail that connects into Blodgett Canyon out of the Bitterroot Valley. Carol Hennessey, Trails Program Leader for the Nez Perce-Clearwater National Forests, said, "It appears this trail has been "buried" by a debris slide---crews probably won't be able to open/repair this trail immediately."
---
---