Thu., Dec. 8, 2011
Paddlers plunge over 90-foot falls for video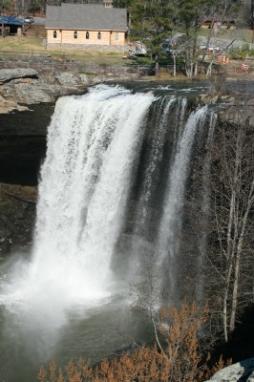 KAYAKING -- A trio of kayakers raised the eyebrows of local officials recently by paddling over 90-foot Noccalula Falls in Etowah County, Alabama.
The paddlers risked big fines and a tongue lashing by doing the stunt for a video -- "Watershed: Land of Giants" -- they plan to release online around Christmas.
Still, their feat of daring and survival pales to the 2009 leap of faith Tyler Bradt made when he set a world record for waterfall paddling by surviving his 186-foot kayak plunge over Palouse Falls in Eastern Washington.
Incidentally, Bradt reportedly injured his spine on Oregon's Abiqua Creek on March 20. A Facebook post said his L1 was pulled apart and his surgeon predicted 12 weeks for recovery.
More details on Tyler Bradt:
On April 21, 2009 Bradt successfully kayaked 186-foot (57 m) Palouse Falls in Eastern Washington. "This drop was re-measured at 189 ft. A few feet taller than we had previously thought... " The freefall lasted approximately four seconds. Bradt had previously been the world record holder for his 2007 descent of 107-foot (33 m) Alexandra Falls on the Hay River in the Northwest Territories. This record was broken by a Brazilian kayaker who ran 127-foot (39 m) Salto Belo of the Rio Sacre just a month prior to Bradt's newest record descent over Palouse Falls. Bradt suffered only minor injuries from this record feat.
Bradt's media agent released the photographs and video footage of him dropping over the falls to Sports Illustrated, which carried a video of the plunge on their website. The May 18, 2009 issue of Sports Illustrated included the first published photo of Bradt's world record descent. Tyler Bradt and kayaker/filmmaker Rush Sturges included footage of the plunge in their 2010 film Dream Result, which they collaborated on and released in 2010.
---
---