Tue., Dec. 13, 2011
State asking anglers to help target Pend Oreille River pike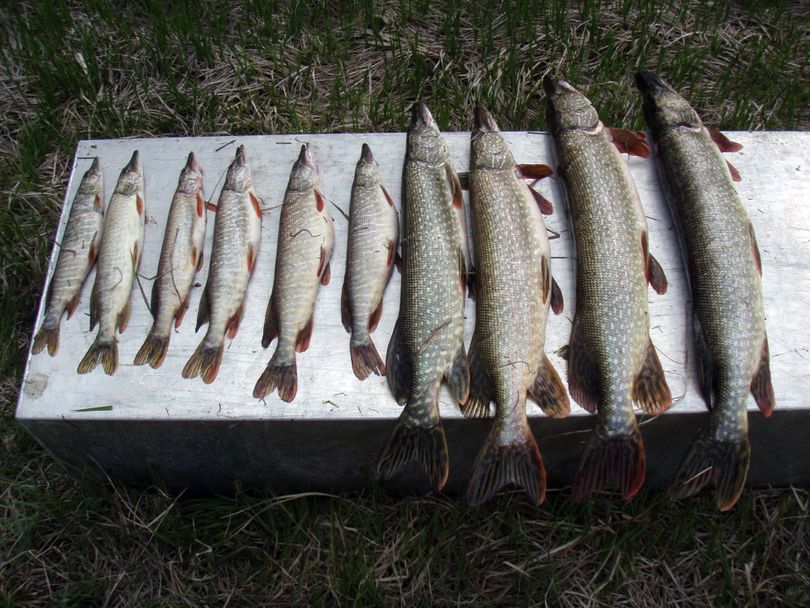 FISHING -- It's no secret that the Washington Department of Fish and Wildlife is more than a little concerned about the burgeoning population of northern pike in the Pend Oreille River upstream from Box Canyon Dam.
The main worry is the potential impact pike could have on salmon and steelhead smolts downstream on the Columbia River.
Today the WDFW made it official: The agency has announced it's gearing up for a spring campaign to halt the advance of the voracious, non-native fish toward the Columbia River.
State fishery managers plan to enlist anglers to remove as many northern pike as possible from the Pend Oreille River, a conduit for pike moving downstream from Idaho and Montana.
A new webpage outlines the proliferation of northern pike in the river since 2004 and the threat they pose to native fish species.
Biological surveys conducted in conjunction with the Kalispel Tribe and Eastern Washington University document a dramatic decline in native minnows, largemouth bass, yellow perch and other fish species that inhabit the 55-mile Box Canyon Reservoir.
Read on for more details from a WDFW media release, and the meat of the fishing rule change WDFW is seeking to help expedite the process:
Fish managers have traced the movement of northern pike into the Pend Oreille River from rivers in Montana, where they were stocked illegally. Last spring, Canadian anglers reported catching them in the Columbia River near its confluence with the Pend Oreille, just north of the border between Washington state and British Columbia.
"That's a big concern," Whalen said. "If northern pike start spreading down the Columbia River, they could create significant ecological and economic damage."
Earlier this year, WDFW held public meetings in Spokane and Newport to discuss possible options for controlling northern pike. Regardless of what other methods are used, anglers represent a major line of defense, said John Whalen, WDFW regional fisheries manager in Spokane.
"These fish average 2-3 pounds, but can run up to 30 pounds apiece," he said, noting that there are no daily catch limits or size limits on northern pike in Washington state.
To help reduce the pike population, WDFW has proposed changing state fishing regulations to allow anglers to fish with two poles in the Pend Oreille River. The department has also proposed stripping the northern pike from its designation as a "game fish," while continuing to classify it as a "prohibited species" that cannot lawfully be transported to state waters.
That change would help clarify our management goals," Whalen said. "Anglers could keep fishing for them, but the change in designation would signal that the priority is to control the spread of northern pike and their impact on native fish species."
The Washington Fish and Wildlife Commission, which sets policy for WDFW, will hear public testimony on all proposed fishing rule changes during a public meeting scheduled Jan. 6-7 in Olympia.
WDFW will accept comments on those proposals through Dec. 30. The commission is scheduled to take action on those proposals at a public meeting Feb. 3-4 in Olympia.
---
---