Sat., Dec. 17, 2011
It's a record! Bald eagles mobbing Lake CdA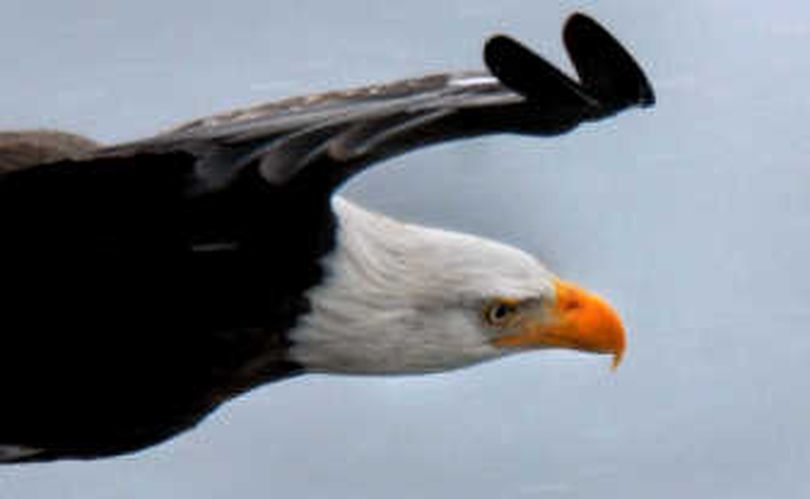 WILDLIFE WATCHING -- Bald eagles are mobbing Lake Coeur d'Alene in record numbers this week.
On Thursday, U.S. Bureau of Land Management wildlife biologist Carrie Hugo returned from an eagle cruise boat tour and reported that eagles were "all over the place" compared to just the week before, when her weekly survey counted 136 bald eagles in Wolf Lodge Bay.
She confirmed her notion Friday with the fourth official survey of the season, tallying a record 259 eagles congregating to feast on spawning kokanee. That's an increase of 123 in just one week.
Friday's congregation breaks the record of 254 eagles counted in the bay on Dec. 21, 2010.
The record previous to that was a mere 154 eagles in 2004.
Hugo counted 215 adults and 44 juveniles Friday, noting that most of the fish-loving birds were hanging out in the Beauty Bay area and the hillside just across the water from Higgens Point.
More eagles could be coming in, since the peak of the congregation traditionally has been just before Christmas.
BLM, Idaho Fish and Game and Audubon Society volunteers are organizing the annual Eagle Watch Week, Dec. 26-Jan. 1 (take I-90 Wolf Lodge Exit 22) with free exhibits to educate visitors about this confluence of propagation, death and survival. Volunteers will be available
at the Mineral Ridge boat launch and trailhead parking areas, 10 a.m.-3 p.m. each day during Eagle Watch Week.
Eagle cruises launching
Reservations are filling fast for cruise boat tours to view bald eagles at Wolf Lodge Bay.
Tours are set to launch from the Coeur d'Alene Resort this weekend, Dec. 24 and Dec 26-Jan. 1
Book seats on resort's website or call (208) 765-4000.
Related news:
Washington DNR considers removing bald eagles, pergrine falcons from state Forest Practices Board's critical habitats list.

The Washington State Department of Natural Resources will hold public hearing regarding proposed changes to state Forest Practices Rules on Jan. 5 at 6 p.m. at the Southeast Region Office, 713 E Bowers in Ellensburg

One proposed rule will amend Forest Practices Board rules on threatened and endangered species to be consistent with other state laws. The Washington Fish and Wildlife Commission already has removed the bald eagle from the state's threatened and endangered species lists, following removal from the federal endangered species listing. DNR's proposed rule change would remove the bald eagle and the peregrine falcon from the Forest Practices Board's critical habitats list.
---
---