Mon., Feb. 7, 2011
Barred owls could be shot to help spotted cousins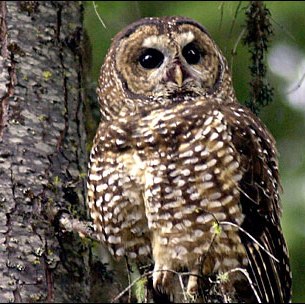 ENDANGERED SPECIES — How desperate are federal wildlife officials in protecting the endangered spotted owl from the larger, more aggressive barred owls?
A story in the Oregonian says a draft environmental impact statement scheduled for release this summer most likely will recommend shooting barred owls.
Over the next year, in three or more study areas from Washington to northern California, authorized federal workers might kill 1,200 to 1,500 barred owls.
Other measures have failed to give the spotted owl an edge in attempts to get it off the endangered species list.
Adopting a lethal option is a wrenching decision that has split wildlife biologists and environmentalists, the Oregonian said.
---
---