Wed., Feb. 16, 2011
Rathdrum angler drawing attention at Bassmaster Classic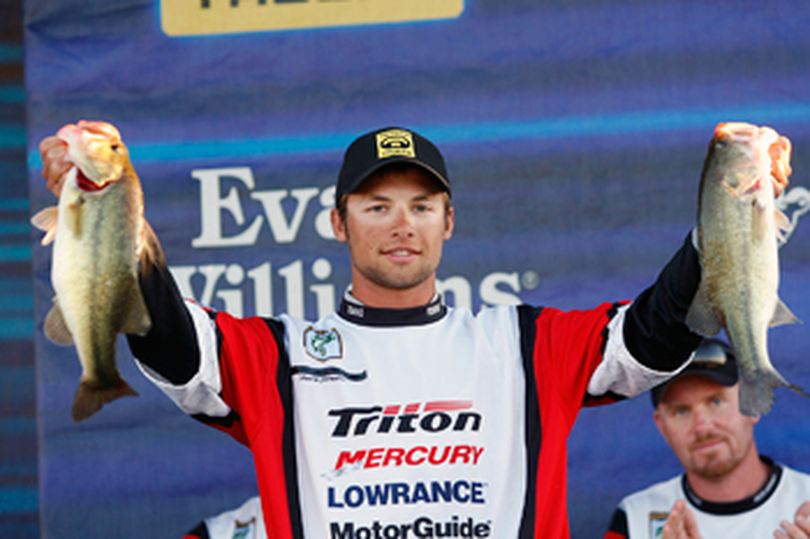 PRO-FISHING -- Rathdrum, Idaho, angler Brandon Palaniuk (pronounced "pal-a-nick") is catching some attention -- and perhaps some extra cash -- as he warms up for this weekend's Bassmaster Classic -- the Super Bowl of competitive bass fishing.
An e-mail just received from a Bassmaster insider said Palaniuk, 23, is creating some buzz around the competition site at the Louisiana Delta near New Orleans. The insider said he'd heard the Berkley fishing tackle company "just signed on to sponsor him, which suggests someone sees real potential in this guy!"
The 50 anglers who qualified for the Classic are pre-fishing this week; competition will run Friday-Sunday.
Read on for an ESPN pre-event Q&A interview with Palaniuk, who earned his berth at the Classic by winning the $60,000 grand prize at the 2010 B.A.S.S. Federation Nation Championship in Shreveport, La. — a long way from his North Idaho home.
By the way... Despite having competed in tournaments in the nation's goldbelt of bass fishing, he told ESPN that Lake Coeur d'Alene is still his favorite place to fish.
1. Where were you born and raised?

I was born in Pullman, Wash., but I was raised in Hayden, Idaho.
2. How did you get started in bass fishing?

I had a guy take me out bass fishing for the first time when I was 8 years old. His name was Jeremy Tripp, and he fished locally. He kept taking me out, then eventually I got into tournaments and worked my way up from there. However, living up here, I started out fishing for everything. When he took me, I knew then I wanted to fish for nothing but bass. But I still fish for walleye and other species when it gets cold because you can only fish for bass nine months out of the year. Also, drop shotting for lake trout in 180 feet of water keeps your bass skills sharp.

3. Who were some of your earliest fishing heroes?

I'd have to say Jeremy Tripp, the guy who took me bass fishing the first time. I didn't have any specific professional fishing heroes growing up. I looked at all of them as heroes. I have a lot of respect for Mike Iaconelli and his passion for the sport and the way he's himself. He brought a different light to the industry through his personality.

4. What's the biggest bass you've ever caught?

I caught a 12-pounder on Lake El Salto in Mexico. My family has a timeshare in Mazatlan, and we try to make at least one trip to El Salto whenever we go down there.

5. What do you love most about bass fishing?

I love the fact that you can never completely understand it. It changes all the time. I strive for perfection, but I think perfection in bass fishing is one of the hardest things to attain, if it's even possible.

6. Where is your favorite place to fish for bass and why?

I'd have to say here at home on Coeur d'Alene Lake. There are so many ways to catch them here .You can go out and throw giant swimbaits or catch the same fish with a drop shot. You see everything in the nine months of the year you can fish for bass.

7. What are a few of your career goals?

A big one for me is that I want to bring new non-endemic sponsors into the industry. I've always been interested in that. I want to make the sport of fishing huge, almost comparable to NASCAR. Fishing has something that no other sport can offer. I want to see Nike and Gatorade and companies like those involved. Besides that, I want to win the Classic and Toyota Tundra Bassmaster Angler of the Year.

8. What keeps you motivated to reach those goals?

A lot of it comes from my support system, which is made up of my family, friends and sponsors. They push me constantly to make me be the best that I can be. The second reason I want to reach them goes back to the thing about never being able to perfect fishing. I think when you want to do something like that, it keeps you striving toward your goals.

9. Where do you see your career in five years?

Well, first of all, I hope I'm still fishing the Elite Series. I also hope that our sport grows into something huge. It's hard to say, though, but with the new owners of B.A.S.S., I think we can do great things. I'm excited to see what happens in the next five years, and I hope that I'm still a part of it.

10. What is your greatest strength as a professional angler?

That's a tough one for me. I have to say versatility, though. Being from the Northwest, you see almost every condition you can think of and get a chance to use a lot of techniques.

11. What is your greatest weakness as a professional angler?

Probably deep cranking. If there is one thing we don't do a whole lot up here, it's deep cranking. Most of our lakes don't have the big river systems with big ledges. But the little bit of it I've done was enjoyable.

12. Do you have any fishing superstitions?

I don't really. I probably have some that I don't even realize anymore, though, but nothing comes to mind. I'm not a real superstitious person to begin with.

13. How big a part does luck play in tournament bass fishing?

There was a quote that I heard a long time ago that says that luck is where preparation meets opportunity, and I believe a lot in that, whether it's true or not. I think there is definitely something there. When it's your time, it's your time, and whether it's luck or something else, there's an undefined element at play.

14. When you're not bass fishing, how do you like to spend your time??

When I'm not bass fishing, I fish for other species, like walleye. Other than that, I like big game hunting. Archery hunting for elk is by far my favorite. If I wasn't fishing for a living, I'd try to hunt for a living. I also do a lot of snowboarding. I've been doing it for 16 years now.

15. What is next for you?

I guess in the short term, I'll be leaving home here in about a week and heading to Florida to start looking at some of the lakes on next year's schedule and thinking about the Classic. On the other side of the sport, I'd like to acquire more sponsorships and build on the ones that I already have.

16. If you could only fish one lure for the rest of your life, what would it be and why?

Oh, man. That's a tough one. I would say a drop shot. I can fish it from 6 inches of water all the way to 180 feet and catch 35-pound lake trout.

17. What profession (other than your own) would you like to have tried?

I'm not sure what you'd call it, but I'd want to be a hunting personality that maybe has a TV show. I wouldn't want to guide though.

18. Now that you're an Elite Series rookie, what are you looking forward to most?

The next level of competition. What I mean by that is competing against the guys who I've been trying to emulate for a long time. I think that will definitely be cool. The other thing I'm looking forward to is stepping through the doors that open as a result of fishing on the Elite Series.

19. What are you dreading, if anything?

I don't know. I love everything about the sport! I like the travel. You get to see some really cool stuff driving, though it can get old. The biggest thing would be the lack of sleep between travel and fishing.

20. When it's all over, how do you want the bass fishing world to remember you?

I want to be remembered as an angler who helped grow the sport and brought new things into it and as someone who tried to be consistent. I want to be the best because I'm a competitor, but I really just want to be able to make a living fishing for bass.
---
---