Tue., Jan. 18, 2011
Bird season ends in gale of excitement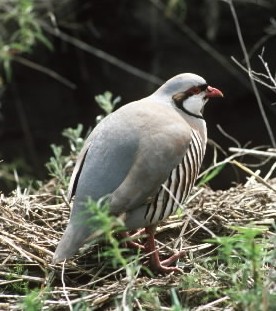 UPLAND BIRD HUNTING -- Rain was splattering on the windshield and the wind was blowing so hard up the Snake River canyon on Monday morning it rocked the pickup after I shut down the engine.
That wasn't a good sign for two guys and a dog getting ready to head up the basalt-rock slopes in pursuit of notoriously wild-flushing chukars.
But it was the last day of Washington's 2010-2011 upland bird season, so we gave it our best.
My English setter, Scout, immediately raced up to a ridge and stuck a covey of Huns with a tail-to the-sky point he held for several minutes while we climbed up. The birds flushed fairly wild with the velocity of feathered bottle rockets. Birds 1, hunters 0.
Throughout the rest of the day, Scout performed well, although the strong winds led to a few false points, or at least we thought so. One time we walked down toward a point far below us with our eyes watering like faucets. No birds were there when we arrived but we weren't sure if they'd flushed. "I couldn't see my eyes were watering so bad," Jim said. And the howling wind would have washed out any sound of flushing wings.
Both of us were nearly blown off our feet a couple of times. We looked down on the Snake River to see the wind sometimes whipping up spouts of water at least 100 feet high.
A waterfall pouring down a basalt cliff from this week's runoff was occasionally reversed into a "waterup" by gusts that shot the stream toward the sky.
In the end, the partridges did not get a shut out on the three of us. But teamed with the wind, they definitely won.
---
---