Tue., Jan. 25, 2011, 1:53 p.m.
Rathdrum man to represent West at Bassmasters Classic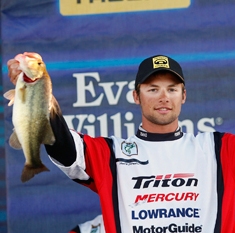 PRO FISHING -- A Rathdrum man is the only angler from the West to qualify for the 2011 Bassmaster Classic – the Super Bowl of professional bass fishing – Feb. 18-20 at Bayou Segnette State Park in Louisiana.

Brandon Palaniuk, 23, a member of the Panhandle Bassmasters, is a heavy-equipment operator who's earned $60,000 in his other career as a pro angler.
His ticket to the big stage was teaming with fellow Idahoan Bill Golightly to win the BASS Federation Nation Championship at Louisiana's Red River in October. Other than that, an ESPN report noted, "his pro record is completely blank."
"Since the first time I was taken out in a bass boat when I was 8 years old, I have been thinking about making the Classic," Palaniuk said at the awards ceremony. "And since I started fishing the Federation when I was 16, I started dreaming about winning one of these (annual championships)."
Palaniuk is among 15 rookies energizing this year's Bassmasters field.
Alabama leads all states at the Bassmaster Classic with 10 residents in the 50-angler field. Oklahoma and Texas each have five, Arkansas four, and Florida and South Carolina each have three.
---
---