Wed., Jan. 26, 2011
Winter is Hurricane season at Olympic National Park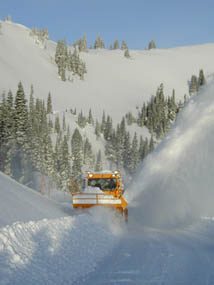 NATIONAL PARKS -- Winter at Olyimpic National Park conjures up images of pounding surf on wilderness beaches. But many people don't realize the Western Washington park also offers stunning winter alpine beauty served by the plowed road to Hurricane Ridge.
Bring your skis or snowshoes if you visit this winter paradise, which is served by a shuttle bus from Port Angeles in case you don't have the tire chains required in some conditions.
Get a weather preview via the Hurricane Ridge webcam.
Read on for details or click here for details from the Olympic Peninsual visitors association.
Did you know?
Mount Olympus receives over 200 inches of precipitation each year and most of that falls as snow. At 7,980 feet, Mount Olympus is the highest peak in Olympic National Park and has the third largest glacial system in the contiguous U.S.

Hurricane Ridge Road is open this winter
As always, winter access to Hurricane Ridge is weather dependent. For
up-to-date information on road and weather conditions, visit the
Olympic National Park website at www.nps.gov/olym, follow HRWinterAccess on
Twitter, or call the recorded Road and Weather Hotline at 360-565-3131.
All vehicles are required to carry chains when traveling the Hurricane
Ridge Road in winter. See list below for more information on chains.
Entrance fees are collected at the Heart O' the Hills entrance station whenever the road is open. Olympic's seven-day entrance pass, which allows a private vehicle to enter any of the park's roadways, costs $15. The Olympic National Park Annual Pass, good for one year after the purchase date, costs $30.
Road and weather condition updates are posted here, or you may call the park's Road and Weather Hotline at 360-565-3131. Following "HRWinterAccess" on Twitter is another way to make sure you've got current information on the road's status.
Hurricane Ridge Shuttle Van
All Points Charters and Tours provides twice-daily van service from downtown Port Angeles to Hurricane Ridge Wednesday through Sunday, through the winter season.
Shuttle vans will depart from the Port Angeles Chamber of Commerce Visitor Center (121 E. Railroad Avenue) at 9:00am and 12:30pm, and will pick up passengers at the Vern Burton Community Center (208 E. 4th Street) at 9:05am and 12:35pm before the 45-minute drive to Hurricane Ridge. Vans will depart Hurricane Ridge at approximately 11:00am and 3:45pm.
Advance reservations are strongly recommended and can be made by calling All Points Charters and Tours at 360-565-1139 or 360-460-7131. Round trip tickets cost $10 per person. In addition, park entrance fees ($5.00/person for anyone 16 years and older) Will be required at the park entrance station. Park and national public lands entrance passes will be honored.
At the 'Ridge!
The Hurricane Ridge snack bar and ski shop, with both ski and snowshoe
rentals - The snack bar is open for 'grab and go' only on Fridays; full
services are available Saturdays and Sundays.
A ranger-led snowshoe walks for individuals and families are offered.
The walk lasts 90 minutes and is less than one mile in length. Register at the Hurricane Ridge Visitor Center information desk 30 minutes before the scheduled walk. A suggested $5 donation from each snowshoe walk participant helps the park provide snowshoe walks and repair and replace snowshoes.
Downhill Ski and Snowboard Area
Weather permitting, the downhill ski and snowboard area operates from 10 a.m. to 4 p.m. on Saturdays and Sundays from December 11 through March 27 (closed Christmas Day.) The ski tows will also be open on the following Mondays: December 27, January 17, (Martin Luther King, Jr. Day) and February 21 (Washington's Birthday.) More information about the Hurricane Ridge downhill ski and snowboard area is available at www.hurricaneridge.com.
Click here for more information on Port Angeles and Hurricane Ridge.
---
---