Tue., May 17, 2011
Washington biologists ahead of feds in concern for wolves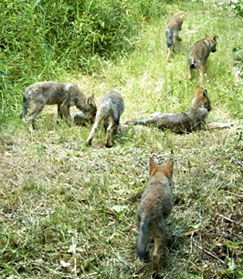 PREDATORS -- Although the U.S. Fish and Wildlife Service recently announced it will review the status of Pacific Northwest wolves, Washington biologists already are trying to get a handle on what's happened to the state's first documented breeding pack
The Lookout Pack in the Methow Valley has been decimated in the past year, apparently by poachers, state and federal biologists say.
Since the wolves were discovered in 2008, the pack has gone from as many as 10 animals to only a couple of wolves.
"I'm guessing two… based on some of the photos we've gotten" from motion-sensor cameras, John Rohrer, a biologist with the U.S. Forest Service, told the
Methow Valley News
last week.
One of the survivors is the pack's alpha male, Rohrer said, but biologists don't know whether the other wolf is a female who might be able to breed and keep the pack alive.
Conservation Northwest is offering a $7,500 reward for information that leads to a conviction of wolf poaching in Washington.
---
---