Sun., Nov. 20, 2011
Tonight: Banff Mountain Film Festival ending 3-day run at The Bing
ADVENTURE FILMS -- Adventure lovers have been feasting at a very full plate of films in Spokane during the three-day run of the Banff Mountain Film Festival World Tour at the Bing Crosby Theater. The lineup of films was selected Friday morning by Mountain Gear staffers. A series of 21 films -- seven a night -- is being shown in a different lineup each day starting tonight.
Friday night was a real crowd pleaser with full range of emotion and stunning photography. Saturday featured something new for the World Tour: A filmmaker introducing his film, and he was a local -- Jordan Halland of Coeur d'Alene, who helped film the Ice Climbing crowd pleaser Blue Obsession.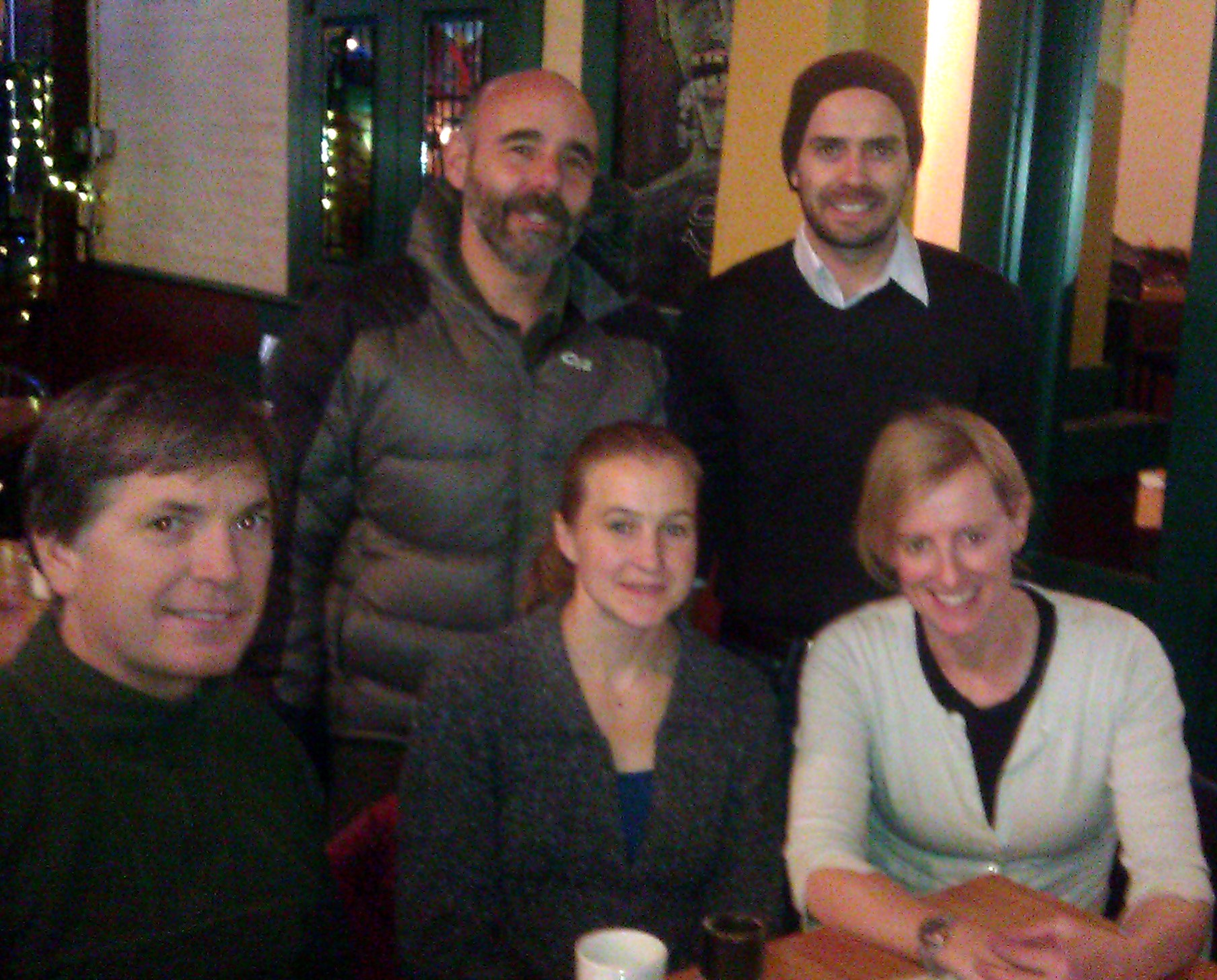 The film fest is a virtual sellout, but a few tickets may still be available for tonight. Call Mountain Gear for possible leftovers, 325-9000.
Click on the popular intro footage (above) of short clips from all the festival films to get a taste for what's to come.
Mountain Gear staffers (left) met with World Tour hostess Michelle de Camp of the Banff Mountain Film Festival Friday afternoon to choose the lineup of films. Expect a heavy and sometimes powerful mix of drama, action and stunning photography this year.
Their goal was to offer variety every night from the movies licensed for the show. Following is the lineup in order:
FRIDAY
All.I.Can -- A visually stunning film featuring time-lapse sequences, creative visuals, great skiers and deep powder and environmental messages. Voted Best Feature-length Mountain Film,
Treeverse -- Five days will people who never set their feet on the ground.
Trail Collector -- Vignettes of riding various mountain biking trails -- the only fat-tire flick in the World Tour this year.
Kadoma -- A movie about kayaking in the Congo, with a dramatic ending that could not have been scripted. Voted Best Film on Expedition and Adventure.
Reel Rock: Ice Revolution -- Takes ice climbing to a new level.
C.A.R.C.A. -- One man's quest to revolutionize the world of animal avalanche rescue.
The Freedom Chair -- A great competitive skier finds a new way to win out of necessity. Voted Best Film on Mountain Sports.
SATURDAY
On Assignment Jimmy Chin -- A look behind the scenes of a passionate Yosemite climber.
Solitaire -- A different kind of ski movie rising from the desert of South Africa.
Seasons: Fall -- A 4-minute moody kayaking flick made on Washington's White Salmon River, part of a four-season series.
Spoil -- An environmental film that avoids preachiness and relies on visuals to make its point about development and its potential impact on a special line of bears. Voted Best Film on Mountain Environment and Ranked #2 in People's Choice voting at the Festival in Banff.
23 Feet -- Three young women head out on a prolonged road trip to find the meaning of a simple life.
Blue Obsession -- Jordan Halland -- a heart throb in crampons -- sets out on an unusual and artistic ice climbing adventure in Alaska glaciers near Juneau.
Cold -- Follows mountaineers as they learn why 16 other expeditions had failed to climb an 8,000 meter Pakistan peak during winter. Grand Prize Winner at the Banff Mountain Film Festival, and likely to make you hesitate to ever complain about the cold.
SUNDAY
Ski Bums Never Die-- A light, inspiring short movie about characters you might see this year when you travel north to hit the slopes at Whitewater Ski Area near Nelson, B.C.
Chasing Water -- An honest look at the length of the Colorado River. Voted Best Short Mountain Film.
Seasons: Winter -- Perhaps the best of the four seasons series, a 4-minute flick of winter kayaking with some nifty toboggan entries and a cheerful cameo appearance by river otters.
On the Trail of Genghis Khan: The Last Frontier -- Australian Tim Cope get's more than he expected as he follows the conqueror's epic 10,000-kilometer route. The 1 1/2-year expedition took 3 1/2 years. Banff film viewers reportedly fall in love with the main character. Winner of the People's Choice Award at Banff.
Sketchy Andy -- Hang on to your seats as a dirtbag climber takes the discipline of slacklining into the future.
Towers of Ennedi -- Veteran climber Mark Synnott – known more for his far-flung adventures than his technical accomplishments – brings young climbing stars Alex Honnold and James Pearson to the Ennedi and its unclimbed rock towers in Chad, Africa.
Reel Rock: Origins - Obe and Ashima -- A climbing gym innovator works with a 9-year-old child climbing prodigy.
Read more about the Banff Mountani Film Festival World tour.
---
---