Fri., Oct. 7, 2011
Hunters warned to be prepared for bear encounters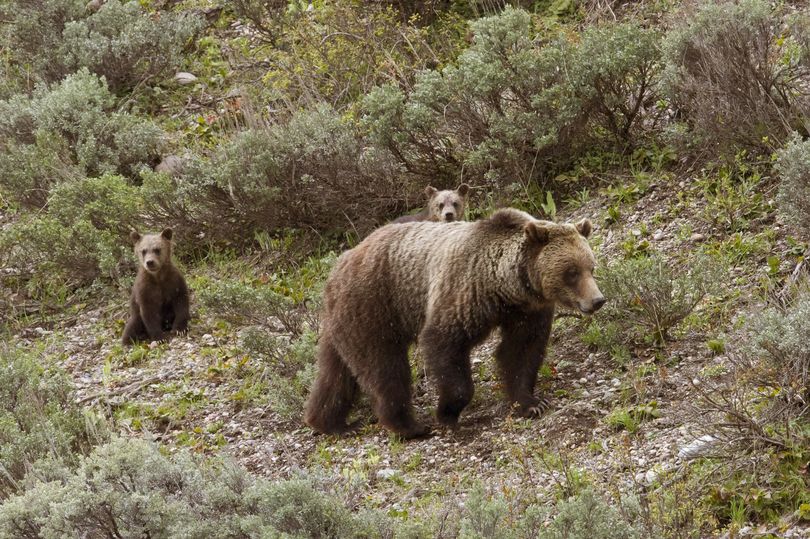 HUNTING -- Regardless of what species they're stalking, hunters heading into bear, wolf and cougar country -- which it just about everywhere around here -- should be prepared to deal with a close encounter. That means thinking about it before hand and being equipped with pepper spray in many cases.
Wildlife agencies are trying to get the word out on bear awareness as hunters continue to have run-ins.
Montana Fish, Wildlife & Parks (FWP) Bear Management Specialist, Jamie Jonkel, says that the moment hunters start to think about heading afield is also the time to plan on how to react in the case of an encounter with a bear.
The first thing to consider, Jonkel says, is that the very act of stalking game, such as deer and elk, in the fall increases a hunter's chance of bumping into bears.
"This is the time of year when bears are out and about in constant search for food before winter, and hunters are being quiet and often travelling in areas with dense cover where bears are feeding and bedding and can be surprised at close range," Jonkel said. "Harvesting an animal also elevates the risk of drawing in a bear, especially grizzlies, so hunters need to be extra cautious."
Read on for some good advice to ponder before the next hunt.
Jonkel says that despite this increased risk, there are key ways to minimize the risk of having an interaction with a grizzly bear, even around a gut pile or a big game carcass.
The first thing to remember is to get the harvested animal out of the area as quickly as possible. The longer a carcass remains lying on the ground, hung up in hunting camp, or in the bed of a truck, the more likely it will be discovered by a bear. The bottom line, Jonkel says, is the faster elk and deer are taken home, the better.
Carcasses that must be left out overnight should be cached and made visible from a distance. Locate an observation point and cover the animal with a tarp and mark it with a piece of clothing or flagging. Drag the gut pile away from the carcass and before leaving, walk to the observation point and memorize the site.
When returning, approach the downed animal carefully and yell or whistle repeatedly. Study the scene from the observation point and scan the area for movement. Grizzly bears, Jonkel says, often drag the carcass a short distance before caching it under a pile of dirt and debris, so be sure to scan the area carefully. If a bear is at site and refuses to leave or the meat has been cached and is not salvageable, report the incident to FWP.
Jonkel reminds both hunters and area residents that some bears are opportunists and change their behavior
in order to take advantage of new food sources. This means that when hunting or living in bear country, always assume that bears are in the area and make sure your camps, cabins and homes are bear resistant, and that bear attractants are contained or removed.
Jonkel says that hunters should follow these tips in bear country:
Always carry bear spray, have it close at hand and know how to use it.
Hunt with a partner or let someone know your plans and periodically check in.
When field dressing the carcass, keep your can of bear spray within easy reach.
Get harvested game out of the woods quickly.
Carry a lightweight tarp or space blanket to put the entails on and pull them well away from the carcass and then cover the carcass with the tarp to reduce the scent, if the carcass is left unattended.
When returning to a site where harvested game is left unattended, study it from a distance first and signal your approach by making plenty of noise.
Do not attempt to frighten or haze a bear from a carcass.
---
---