Wed., Oct. 12, 2011
Birders get detail how to distinguish cackling geese from Canadas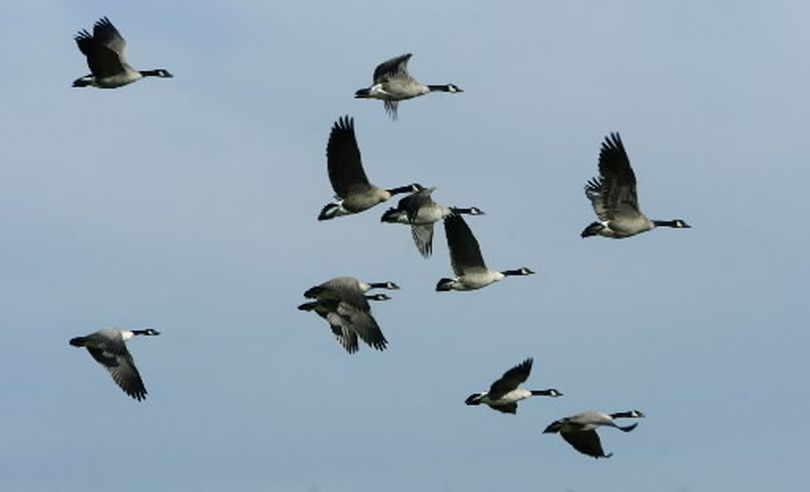 WATERFOWLING -- Goose hunters have a lot of decisions to make, often in a split second in the dim light of early morning, with wind blowing and rain pelting their faces.
Bird identification is tough in good conditions. Add these factors and .... well, it's really tough.
Daily limits of dusky and cackling geese are reduced to help protect their struggling populations, yet they often fly in groups with plentiful Canada geese.
Read on for some pre-season reading for conservation-minded waterfowlers.
Cackling Canada Geese
The cackling Canada goose is the smallest subspecies of Canada geese and is unique to the Pacific Flyway. The birds nest in Alaska and typically winter in Oregon and Washington, with some flying as far south as California. Wildlife managers have been concerned about cackling geese for many years. Data indicate the cackling goose population has declined dramatically since the late 1960s, a likely result of spring subsistence hunting in Alaska and fall harvest, primarily in California. The Pacific Flyway, Alaska Natives, and other groups have developed harvest guidelines to help increase the cackling goose population.
Dusky Canada Geese
Dusky Canada geese nest in Alaska and winter from southern British Columbia to California. Data indicate that during the past 50 years dusky geese increased in numbers and then decreased, primarily due to poor recruitment of young into the population and increased predation by eagles, coyotes, brown bears, and other mammalian predators. Management of dusky geese on their wintering grounds is complicated by the concurrent use by other Canada goose subspecies. The mixing of Canada geese subspecies causes difficulty in conducting winter counts, designing harvest regulations, controlling crop depredation, and assessing carrying capacity of winter habitat.
Click here for a detailed report and photos on distinguishing dusky geese from Canada geese.
Click here for a detailed description disguishing cackling geese from Canada geese.
---
---