Fri., Aug. 3, 2012
Colville repairing bridge on upper Barnaby Creek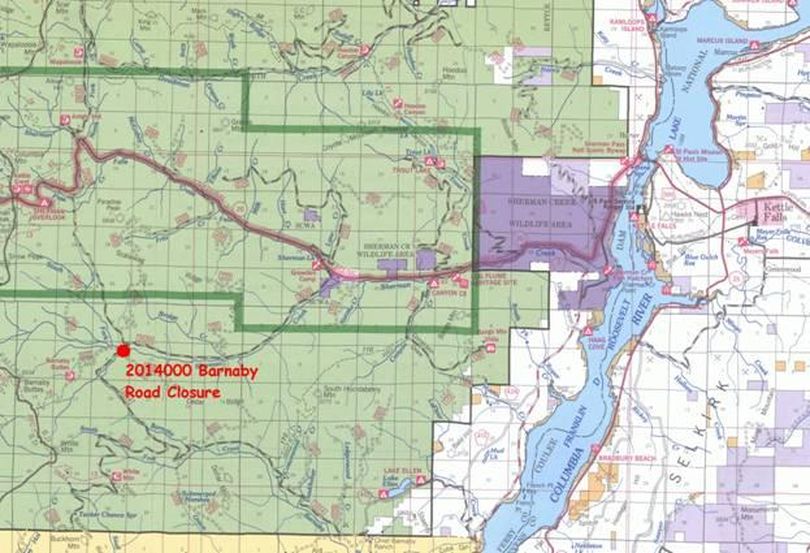 FORESTS -- Until a bridge is repaired, access to the Barnaby Buttes Trailhead and many prized huckleberry picking patches on the Colville National Forest will require a much longer drive for those used to accessing them off of South Fork Sherman Creek Road.
The South Fork of Sherman Creek Bridge on Barnaby Creek Road, Forest Service Road (FS RD) 2014000, has been closed because of damage sustained in the July 20 wind storm, officials reported today.
Read on for details.
The bridge is near the South Fork Sherman/ Barnaby Creek road junction, approximately 6.0 miles from the junction of State Route 20 on South Fork Sherman Creek Road.
A short section of the road is closed at the junction of South Fork Sherman Creek Road (FS RD 2020) and Barnaby Creek Road (FS RD 2014000) to the junction of Barnaby Buttes Trailhead Road (FS RD 2014500). Barnaby Buttes Trailhead may still be accessed, but by coming in from the lower portion of the road near Lake Ellen off of County Road 412.
The bridge that spans South Fork Sherman Creek has received damage during the last round of storm events and is unsafe for vehicle traffic. This has effectively closed access to the upper portion of the Barnaby Creek Road from the South Fork Sherman Creek Road to vehicle traffic. This closure applies to motorized traffic. Pedestrian, equestrian and bicycle traffic is still permitted.
The temporary closure went into effect on August 02, 2012 and will remain in effect until repair operations have been completed. Forest officials anticipate that the bridge work will be completed in the summer of 2013.
For more information, please contact the Three Rivers Ranger District at (509) 738-7700.
---
---