Wed., Aug. 22, 2012
Edith Cavell's Ghost Glacier crumbles, causes tsunami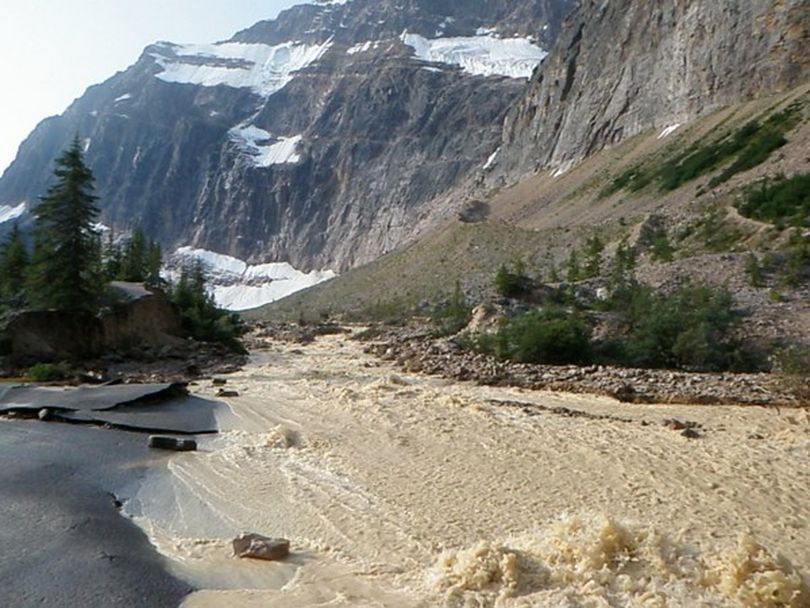 PARKS – A hanging glacier that's captivated hikers, climbers and tourists for as long as humans have explored Jasper National Park, Alberta, broke loose from its precarious perch on Mount Edith Cavell this month, according to a story with photos at Examiner.com.
The crash of ice created a tsunami from the Cavell Pond below that gushed out, ripping up a corner of the popular trailhead parking area and trails.
Luckily, the event happened early in the morning on Aug. 10 before visitors had arrived. No one was injured.
The Ghost Glacier is a smaller blue-ice glacier on the east side of Mount Edith Cavell, next to the larger Angel Glacier on the mountain's north face.
While glaciers are slowly disappearing around this globe, centuries of ice were instantly lost in this event. Park officials estimate 50-60 percent of Ghost Glacier crumbled away.
See a video report on the melting of the Athabasca Glacier and Columbia Icefields.
See a model of climate induced glacier change over 160 years.
Where is Mount Edith Cavell? Click here.
---
---