Mon., Jan. 9, 2012
Colville travel plan appealed by 3 regional conservation groups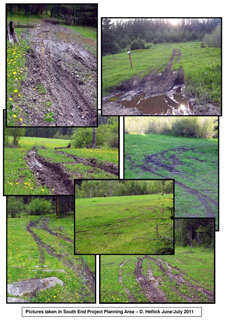 PUBLIC LANDS -- Getting no satisfaction from a letter of concern to the forest supervisor, three Washington-based conservation groups have appealed a Colville National Forest travel plan designating where ATVs, motorcycles and other off-highway vehicles can go at the south end of the 1.1 million acre forest.
The Lands Council, the Kettle Range Conservation Group and Conservation Northwest filed the appeal last week, charging among other things that the plan rewards lawbreaking OHV riders by legitimizing trails that were illegally made.
The groups sent a letter to Supervisor Laura Jo West on Dec. 22 expressing several concerns about the South End Project.
The supervisor replied that her decision would stand as is.
The Lands Council's website lists these disagreements with the travel plan:

The Colville National Forest has a poor track record in stopping illegal ATV use on closed roads, and stopping illegal off-road trail blazing. Law enforcement would become even more difficult with the increased network of ATV routes.

The Forest Service lacks the law enforcement capacity to prevent further illegal use spawned by the South End Project, and has not even found funding to restore the damage caused by previous illegal ATV use within the project area.

Since the South End Project legitimizes trails that were illegally created by ATV users, it rewards bad behavior, which we believe incentivizes additional illegal trail blazing across the Colville National Forest'.

The Lands Council believes ATV riders should be allowed to enjoy our forests on a network of sustainable routes, but not in locations where expanded use threatens wildlife, fish habitat, soil productivity, and quiet recreation.
---
---