Tue., Jan. 10, 2012
UPDATE: See video of snowy owl being treated at WSU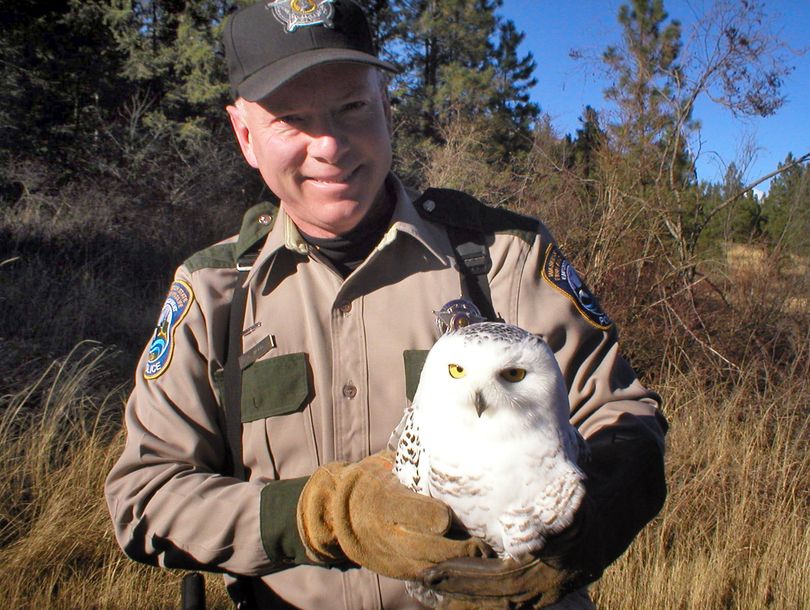 BIRDS -- A video released by WSU Veterinary School today offers insight into a migration spectacle as well as the treatment being offered for a migrant snowy owl injured in November by a collision with a car near Davenport.
Snowy owls are making news as they've showed up in ones and twos all over the northern United States this winter as they migrate in larger than normal numbers from arctic homes to winter hunting grounds.
The beautiful, white birds are a common winter attraction in this region, especially in Lincoln and Stevens counties. But their easiness around civilization can be detrimental when they leave the tundra.
Snowy owls spend most of their lives in treeless habitats, where they've evolved to launch their rodent hunts from the ground or low perches such as fence posts.
Many snowy owls migrate thousands of miles over wilderness only to meet doom in a vehicle collision as they cross a road.
Washington Fish and Wildlife police officer Curt Wood picked up an injured snowy owl from the roadside just northeast of Davenport on Nov. 25. (This is the owl in the photo and video with this blog.)
The bird was taken to the Washington State University Veterinary School, where it's being treated for a fractured wing and dislocated elbow.
"It's probably not going to be releasable," said school spokesman Charlie Powell. "It's a little too warm during summer to keep him comfortable, but snowy owls are very easy to place in zoos, so it will be in good hands."
A few days later, officer Wood picked up another ailing snowy owl, also near Davenport on the Sunset Highway. He had to make a stop in Wilbur first, so he let the local third-graders get a close look at the migrant before bringing it in to the Ponti Veterinary Hospital.
Wood said the kids were intrigued by the white owl.
Unfortunately, the Ponti clinic staff said they were unable to save the bird.
---
---