Mon., Jan. 23, 2012
"Hot gloves" can interfere with avalanche tranceivers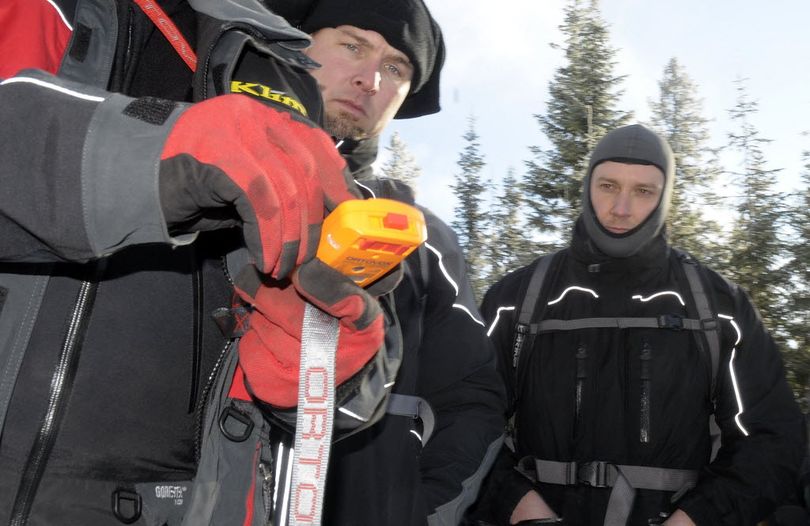 WINTER SPORTS -- The Spokane Mountaineers picked up on a potentially dangerous glitch of interference with avalanche tranceivers this weekend during an avalanche safety seminar presented by the Idaho Panhandle Avalanche Center.
The main lesson isn't new: Virtually any electronic device, such as a cell phone or GPS, has the potential to interfere with the reception of avalanche beacon signals during a rescue.
But read on for the details of the new discovery as explained by John Latta of the Spokane Mountaineers, as well as two video investigations into the effect electronics have on avalanche beacons.
John Lata reported on Sunday, 1-22-12:
Yesterday, during the Spokane Mountaineers' Intro to Avalanche Safety Class field day, we made a very important discovery that is worth sharing with winter recreationists who might use avalanche transcievers.

During the beacon search practice one of the participants who was wearing Black Diamond Cayenne electric gloves

was searching for a buried beacon using a BCA Tracker 2.

(Rich Landers adds: The gloves feature a lithium-powered heat coil and were ranked among "the six best gloves of winter 2012" by Outside magazine.)

We found that her gloves when powered STRONGLY INTERFERED with the functioning of the transceiver in search mode!

I cannot emphasize this enough. It has been documented that cell phones and GPS devices interfere with digital transceivers in search mode. We previously have not heard of any reports of interference caused by battery powered heated clothing or boots.

This problem is worthy of further investigation. Until more is known, be aware of this problem and its implications!
---
---