Fri., Jan. 27, 2012
First chinook of the year swims over Bonneville Dam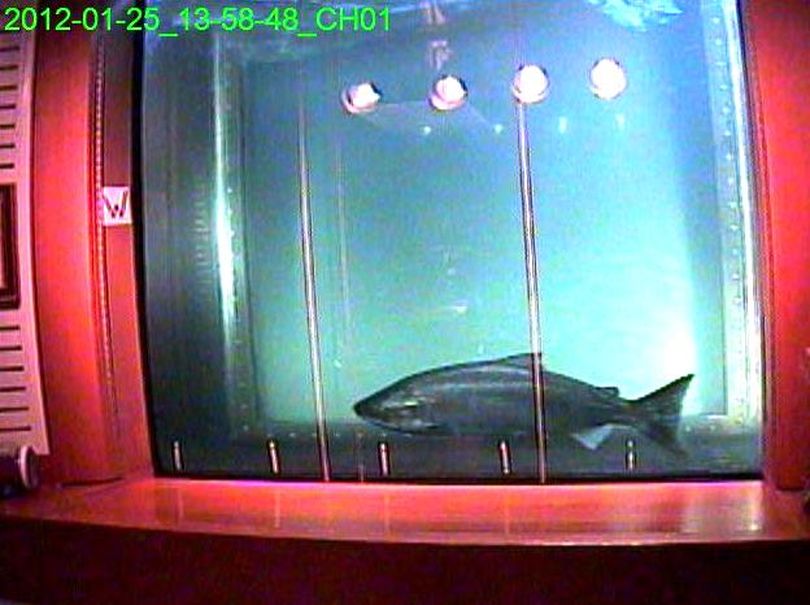 SALMON FISHING -- Here they come!
The first chinook samon of 2012 to swim up the Columbia and over Bonneville Dam were counted on Wednesday.
That's the start of a strong run of 314,200 spring chinook forecast to enter the Columbia destined to waters upstream of Bonneville Dam. If the springer forecast isn't downgraded later, it would be the fourth largest return since 1979 and second largest of the past five years.
A good run of 83,400 is predicted for Oregon's Willamette River. An additional 25,600 chinook are expected at other lower Columbia tributaries.
About 168,000 springers are expected to be headed farther upstream, into the Snake River, over Lower Granite Dam and into Idaho. That would be up from 127,500 counted over Lower Granite last year.
A record 91,200 summer chinook are forecast for the Columbia and tributaries in northcentral Washington and elsewhere. If that holds, it would be the highest number since 1980. The current record is 89,500 in 2002.
Fish managers from area states also predict 462,000 sockeye could move up the Columbia, a potential windfall record by a wide margin, up from the 387,800 that entered the Columbia in 2010..
Spring chinook fishing will open on the lower Columbia starting March 1 and March 16 in the mid-Columbia, according to rules set on Thursday.
Complicated allocation schemes involving the Endangered Species Act, catch balancing between the Columbia treaty tribes and non-Indians, along with sport-commercial sharing arrangements all interact to determine available harvest, reports Allen Thomas of the Vancouver Columbian
Pete Hassemer of the Idaho Department of Fish and Game asked Washington and Oregon not to frontload the sport fishery, but to stretch it out until early May, Thomas reported.

Fifty percent to 60 percent of the harvest downstream of Bonneville Dam comes from spring chinook headed to four Idaho hatcheries, Hassemer said. Idaho would like to see the harvest not so concentrated on four stocks.

Guy Norman, regional director of the Washington Department of Fish and Wildlife, said the sport fishery would have to be limited to about a day per week to meet Idaho's request..
---
---