Mon., Jan. 30, 2012
Hot dog! Hauser Lake ice fishing event huge success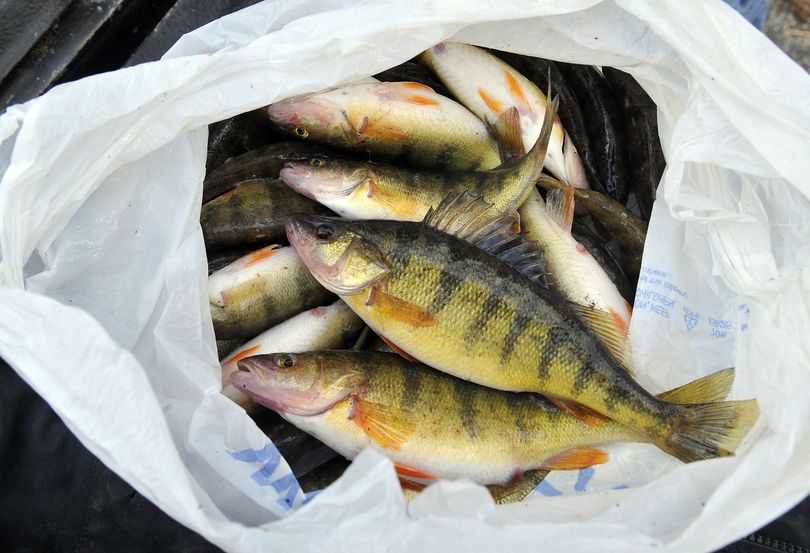 ANGLING -- Saturday's free ice-fishing event at Hauser Lake, organized by Idaho Fish and Game, was a huge success in luring people of all ages to try the sport.
Lots of credit to go around, but you have to give a big high five for service beyond the call of duty to the three sportsmen who were ice fishing at the lake when they saw the organizers being overwhelmed by people eager to borrow fishing gear from the Take Me Fishing trailer.
The three anglers put their gear away and helped the newbie anglers for the rest of the day, said Phil Cooper, IFG spokesman.

"The event was scheduled to start at 11 am. When we arrived at 9:20, we had people waiting," he said. "We had them help us set up the trailer and then gave them equipment to start fishing."
Cooper counted more than 260 people at one time getting gear or on the solid 8 inches of ice trying to hook a fish. Two IFG biologists were drilling ice fishing holes as fast as they could with a gas-powered auger.
The volunteer crew, which included five IFG employees and three Cabela's employees, helped at least 350 people get a taste of fishing -- not to mention a taste of the 496 hot dogs and 23 gallons of hot chocolate served free to the crowd.
"The fish were not as cooperative as we would have liked, however, there were some yellow perch, bluegills and one large largemouth bass caught," Cooper said.

"One man stopped as he was leaving and said he had a blast and had never ice fished before because he had always been afraid to walk on the ice. I asked him how old he was and he said he will turn 70 in a week. So, for him this event helped him overcome 70 years of reluctance to go ice fishing. He said he was heading from the event to Cabela's to buy an ice auger!"
People participating did not need a fishing license during the hours of the event, regardless age or whether they were from Idaho or Washington.
---
---